Hockey East Weekend Preview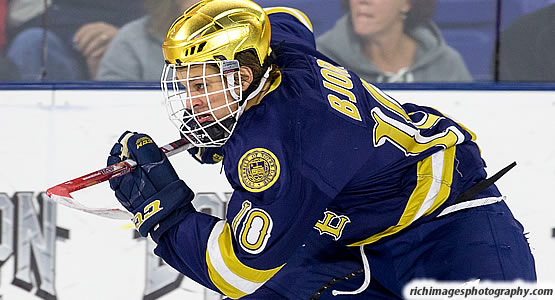 The Notre Dame Fighting Irish are set to compete in the 2017 Frozen Four
Notre Dame vs. No. 1 Denver – Thu. 4/5 at United Center, Chicago
- The Notre Dame Fighting Irish are set to compete in the 2017 Frozen Four over the weekend, marking the third time in program history the team has moved on to the final weekend of the college hockey season (2008, 2011).
- Notre Dame will play the number one overall seed Denver at 9:30 p.m. on April 6 at the United Center for a chance to play for the NCAA title game on April 9 at 8 p.m.
- The Irish become just the fourth host to play in the Frozen Four and first since 2006, when Wisconsin won the NCAA title in Milwaukee. Minnesota hosted in 2002 in St. Paul and Boston University hosted in 1972; Both teams also claimed the NCAA trophy in that year.
- Notre Dame advanced through the Northeast region, topping number one seed Minnesota, 3-2, in the semifinal before squaring off with UMass Lowell in a rematch of the 2017 Hockey East semifinal, a 5-1 River Hawk win. UMass Lowell got a 19-save shutout in the regional semifinals from rookie netminder Tyler Wall (Leamington, Ont.) to move past Cornell, 5-0, but were downed in the final by two goals from Irish rookie Cam Morrison (Aurora, Ont.) and three assists from Anders Bjork (Mequon, Wis.).
- Bjork had five points in the two games as he scored two goals in Saturday's semifinal, including the game winner, and set up all three tallies on Sunday. The junior forward has now factored in on 13 of Notre Dame's 21 game-winning goals.
- The Irish have advanced to the Frozen Four three times in the past 10 seasons, joining just two other schools that can claim that distinction. North Dakota and Boston College have skated in the Frozen Four in five of the last 10 years.