Weekly Release: Tirone Backbones New Hampshire Into Quarterfinals
Providence, Vermont, Northeastern All Move on in Hockey East Tournament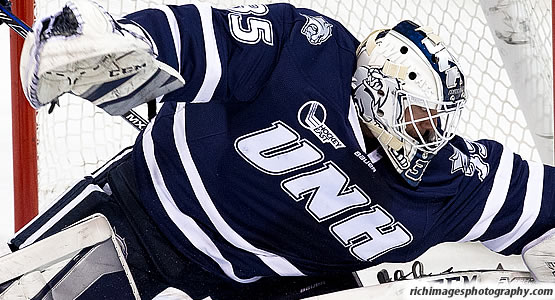 Warrior Hockey Player of the Week Daniel Tirone of New Hampshire
AROUND HOCKEY EAST: #1 UMass Lowell welcomes #10 New Hampshire in a best-of-three quarterfinal set after the Wildcats claimed victory over #7 Merrimack in a three-game opening round series. The River Hawks earned the top seed in the Hockey East Tournament after finishing the regular season as Hockey East tri-champions. During the regular season, UMass Lowell swept New Hampshire, 2-0-0, by a combined score of 10-3. The programs are deadlocked all time in the Hockey East Tournament with a 5-5 record in 10 games played. They last clashed in the 2014 championship game, a 4-0 River Hawks victory ... #2 Boston University draws #8 Northeastern to Agganis Arena in the quarterfinals. The Terriers took the season series over the Huskies, 1-0-1. Northeastern advanced past #9 UConn in straight games of their opening round series, 3-1 and 6-2, while Boston University earned the number two seed and an opening-round bye after winning a share of the Hockey East regular season crown ... #3 Boston College earned a share of the regular season title for the second year in a row, earning a bye into the quarterfinal round. The Eagles are set for a date with #6 Vermont in the quarterfinals for the third straight season. In 2015, the Catamounts moved onto the semifinals while last year the Eagles advanced to the TD Garden after both series went to a decisive game three. The pair of programs played a late-season set in Chestnut Hill, skating to a stalemate in back-to-back contests on Feb. 17-18. All-time in the postseason, the Eagles are 9-3 against Vermont, including a 7-3 mark in the quarterfinals. Each of those three losses have come in the past two seasons ... #4 Notre Dame (19-10-5/12-6-4 HEA) will entertain #5 Providence in South Bend as the Irish look to advance into the semifinal round for the first time since 2014, their inaugural season in Hockey East. Notre Dame put a halt to Providence's nine-game winning streak on Feb. 17 before skating to a draw on Feb. 18 to take three of four points in league play. The Friars, who appeared in the 2017 Hockey East semifinals, advanced past #12 Massachusetts in the opening round, taking 3-0 and 5-1 victories. Notre Dame and Providence have never met in the Hockey East Tournament.
---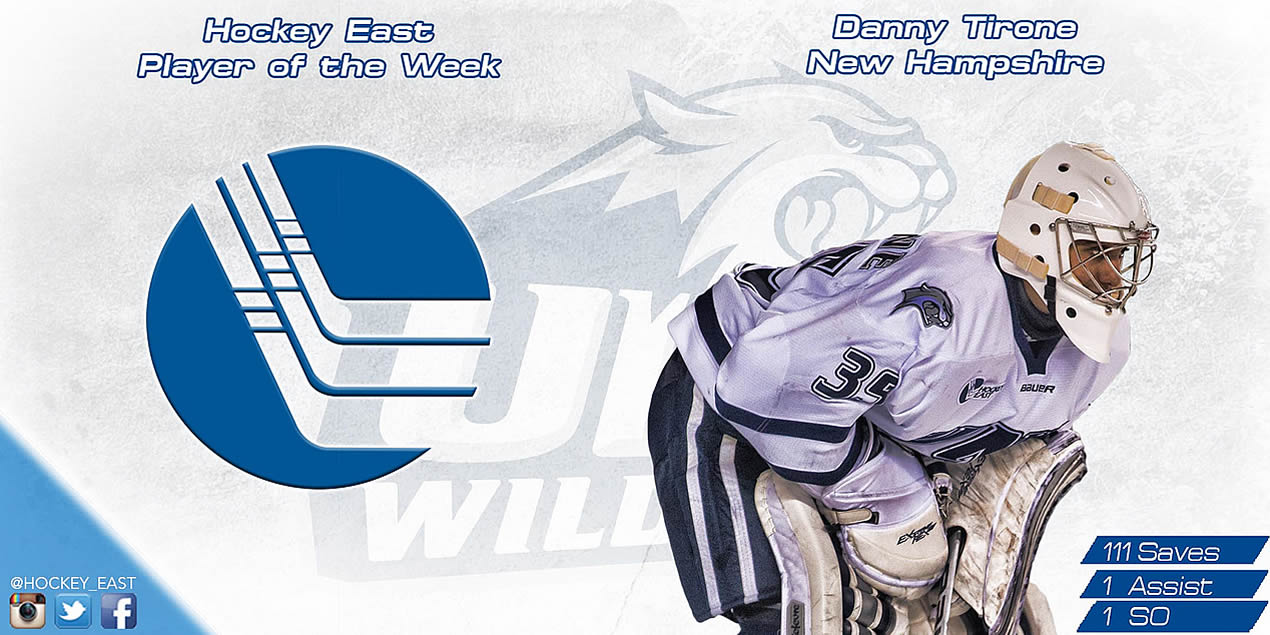 DANIEL TIRONE - NEW HAMPSHIRE

Daniel Tirone (Jr., G; Trumbull, Conn.) made 111 saves on the weekend on 116 shots faced, backboning UNH into the quarterfinals. On Saturday, Tirone made 44 saves in a 4-0 shutout win while also making 44 saves on 46 shots faced on Sunday. He also had an assist on Saturday. Tirone now leads the nation in saves with 1,059.
---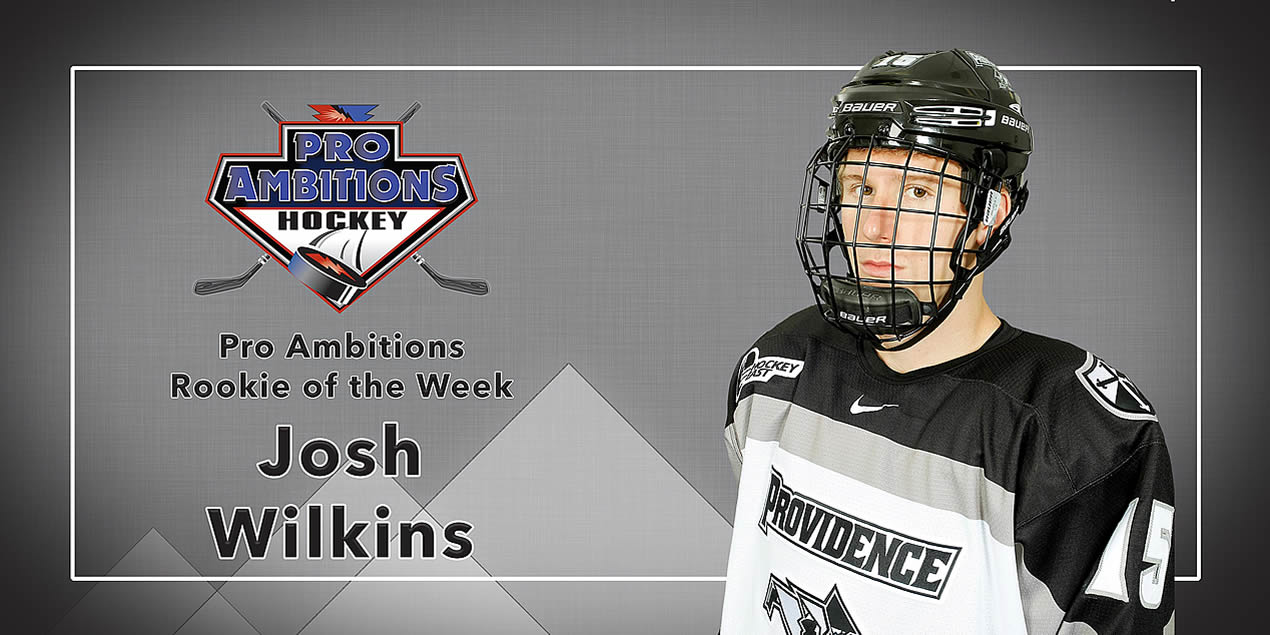 JOSH WILKINS - PROVIDENCE

Josh Wilkins (Fr., F; Raleigh, N.C.) became the first Friars freshman since 1996-97 to reach the 30-point mark over the weekend, scoring two goals and adding two assists in a Providence sweep of Vermont.
---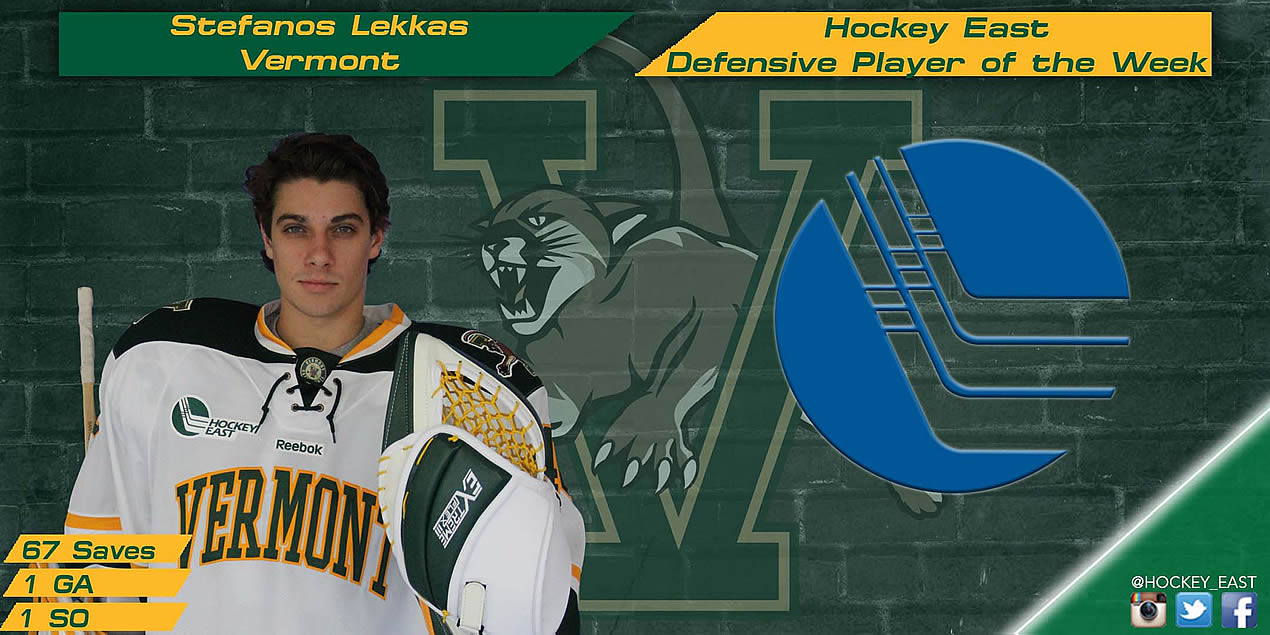 STEFANOS LEKKAS - VERMONT

Stefanos Lekkas (Fr., G; Elburn, Ill.) stopped 67 of the 68 shots he faced in Vermont's sweep of Main in the Hockey East Opening Round for a .985 save percentage. He posted a 31-save shutout in Game 1 and stopped 36 shots in Game 2.
---
HOCKEY EAST WEEKLY TOP PERFORMERS
Michael McNicholas, UNH (Jr., F; Manhattan Beach, Calif.) Tallied five points on the weekend on two goals and three assists. In Saturday's 4-0 win, he recorded a goal and an assist while in Sunday's must-win game, he recorded a goal and two assists to help the Wildcats advance to the Hockey East Quarterfinals.
Patrick Grasso, UNH (Fr., F; Ankeny, Iowa) Notched three points on the weekend with two goals and a helper. The freshman opened the scoring in Saturday's 4-0 win and notched the game winner against Merrimack in a 5-2 victory to propel the Wildcats to the HEA Quarterfinals.
John Stevens, NU (Sr., F; Sea Isle City, N.J.) Had a team-high five points (2g, 3a), including a career-high fourpoint night (2g, 2a) in a series-clinching win against UConn on Saturday.
Ryan Ruck, NU (So., G; Coto de Caza, Calif.) Went 2-0 in a series sweep of UConn with a 1.50 goals against average and .954 save percentage with 62 saves.
Brian Pinho, PC (Jr. F; North Andover, Mass.) Tallied four points on a goal and three assists in Providence's two-game sweep over UMass. Pinho notched the game-winning goal and an assist in Friday night's 3-0 win, and chipped in with two assists in Saturday's 5-1 triumph over the Minutemen. The junior centerman also won 17-of-24 faceoffs on Saturday night.
Hayden Hawkey, PC (So., G; Parker, Colo.) Stopped all 42 shots he faced over the two-game sweep of UMass this weekend. His 22 wins this season ranks second among all NCAA goaltenders.
Brendan Bradley, UVM (Sr., F; Richboro, Pa.) Led the team with four points (2g, 2a) in Vermont's first round sweep of Maine. The senior forward posted a goal and an assist in each victory and closed the series with a plus-four rating. 27 saves for his 16th victory on Friday night.