Wednesday, March 15, 2017
Three Hockey East Players Named Top-10 Hobey Finalists
NU's Zach Aston-Reese, ND's Anders Bjork and UNH's Tyler Kelleher chosen as finalists for college hockey's top individual award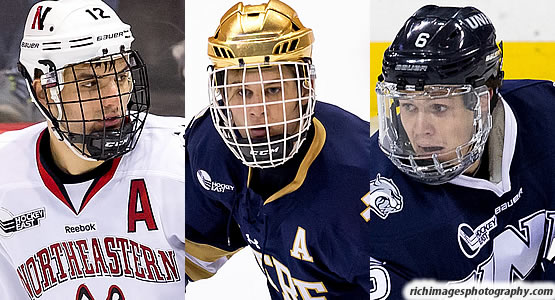 NU's Zach Aston-Reese, ND's Anders Bjork and UNH's Tyler Kelleher chosen as finalists for college hockey's top individual award
The Hobey Baker Memorial Award is very pleased to announce the top ten candidates for the 2017 award honoring college hockey's top player. Alphabetically, they are: Zach Aston-Reese, Northeastern, Michael Bitzer, Bemidji State, Anders Bjork, Notre Dame, Will Butcher, Denver, Spencer Foo, Union, Tyler Kelleher, New Hampshire, Alexander Kerfoot, Harvard, Tyler Sheehy, Minnesota, Mike Vecchione, Union and Charles Williams, Canisius.
The ten finalists were selected by voting from all 60 Division I college hockey head coaches and by online fan balloting. Next, the 27-member Selection Committee and an additional round of fan balloting through the Hobey website at www.hobeybaker.com from March 16-26 will determine this year's Hobey Baker winner. Criteria for the award include: displaying outstanding skills in all phases of the game, strength of character on and off the ice, sportsmanship and scholastic achievements.
The Hobey Hat Trick (three finalists) will be announced on March 30, 2017 and the Hobey Baker Award winner will be announced Friday, April 7, 2017 from Chicago, IL during the NCAA Frozen Four. The award announcement will take place at the Aon Grand Ballroom at Navy Pier. The announcement will be televised live on the NHL Network and can be followed on the Hobey Baker website at 6:00 p.m. ET.
Following, in alphabetical order, is a look at the Hockey East finalists:
Zach Aston-Reese – Northeastern University – Senior, Forward, Staten Island, New York
A breakout campaign has vaulted Aston-Reese to the top of the nation's scoring charts. His 63 points is tied for first, while his 31 goals are unmatched. A consistent scorer all season, assistant captain Aston-Reese has been outstanding on special teams leading the nation with 4 short-handed goals and has added 13 power play goals.
- Has 31 goals, 32 assists for 63 points in 38 games – has 19 multiple point games
- Has recorded three hat tricks, the most in the nation – Graphic Design major
- Works with elementary schools in Boston area by reading to classes

Anders Bjork – University of Notre Dame – Junior, Forward, Mequon, Wisconsin
Notre Dame's assistant captain has paced the Fighting Irish scoring charts all season with 47 points in 35 games. A solid two-way player, Bjork scores goals at key times and has five game winners so far this season. Bjork is one of five finalists for the Hockey Humanitarian Award for his endless hours of volunteer time at a local elementary school where he is known as "Mr. B."
- Has 19 goals, 28 assists for 47 points in 35 games – Boston Bruins draft (5th round)
- Has 15 multiple point games so far – his plus/minus is +18
- Marketing major – volunteers with Perley Fine Arts Academy in South Bend, IN

Tyler Kelleher – University of New Hampshire – Senior, Forward, Longmeadow, Massachusetts
Despite the Wildcats season being over, their sparkplug Tyler Kelleher moved into a tie for the national scoring lead with 63 points in 40 games. An exceptional playmaker, he produced 35 assists to lead the nation. He earned the Hockey East scoring title averaging almost 1.7 points per game and had a total of 18 multiple point games to his credit.
- Has 24 goals, 39 assists for 63 points in 40 games – 13 power play goals is third in nation
- Has 75 assists in 77 games over the past two seasons
- Communications major – assists a child with a brain tumor in playing hockey