Thursday, January 5, 2017
Hockey East Weekend Preview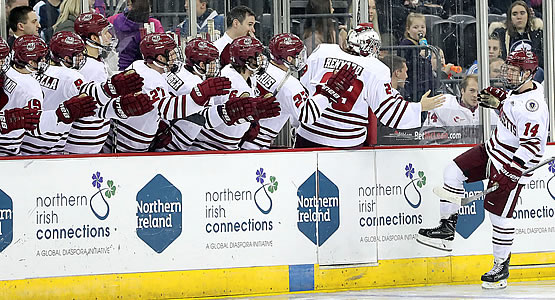 Masachusetts and Boston University will open up the Frozen Fenway schedule this Saturday
No. 5 Boston University vs. No. 10 Union/UMass – Thu. 1/5 at BU; Sat. 1/7 at Frozen Fenway
- Boston University is currently 4-0-0 this season against ECAC Hockey opponents, with wins over then-No. 3 Quinnipiac, then-No. 9 Harvard, Yale and Colgate.
- Head Coach David Quinn's squad will be without seven players for its matchup against Union, including starting goaltender Jake Oettinger (Lakeville, Minn.). The seven will be participating in the IIHF World Junior Championship round; Oettinger, Clayton Keller (Swansea, Ill.), Jordan Greenway (Canton, N.Y.), Kieffer Bellows (Edina, Minn.), Charlie McAvoy (Long Island, N.Y.) and Patrick Harper (New Canaan, Conn.) will represent the United States while Dante Fabbro (New Westminster, B.C.) will be representing Canada.
- The Terriers will appear in their third Frozen Fenway contest that can be seen live on NESN at 1:30pm on Saturday. Previously Boston University defeated rival Boston College, 3-2, in front of a sold-out crowd in the inaugural Frozen Fenway in 2010 and was topped by Maine in its second visit to America's oldest ballpark.

Providence vs. No. 8 Boston College/Yale – Sat. 1/7 at Frozen Fenway; Tue. 1/10 at Yale
- Providence and Boston College previously faced each other in October when the Eagles picked up their first Hockey East victory in a 3-1 decision at Conte Forum. Matthew Gaudreau (Carneys Point, N.J.) recorded a goal and an assist in the effort.
- This will be Boston College's record fourth time appearing in a Frozen Fenway contest. The Eagles are 2-1-0 in games taking place on Yawkey Way, with victories over Notre Dame and Northeastern. The second game of the doubleheader can also be seen live on NESN and NESNplus prior to Bruins coverage.
- At the time of this matchup, Yale will have played two other Hockey East opponents. The Bulldogs were defeated by Boston University, 5-2, at Agganis Arena in December and travel to UConn on Saturday, Jan. 7 before facing the Friars on Tuesday.

New Hampshire vs. No. 6 UMass Lowell/Brown – Fri. 1/6 at UNH; Sat. 1/7 at Brown
- This will mark the first matchup between New Hampshire and UMass Lowell this season.
- New Hampshire and UMass Lowell both boast a top-three scorer in the conference. Tyler Kelleher (Longmeadow, Mass./18g, 21a) tops Hockey East with 35 overall points. Not far behind him is UMass Lowell's Joe Gambardella (Staten Island, N.Y./ 11g, 21a) who ranks third in the same category with 32 points.
- Hockey East teams have faired well against Brown thus far. Maine, Providence, and UConn have gone 3-0-0 and have outscored the Bears, 15-2.

Northeastern vs. No. 13 Vermont – Sat. 1/7 at UVM
- Northeastern and Vermont will conclude their regular-season series in Burlington. The Catamounts recorded their first Hockey East win against the Huskies in a narrow 3-2 contest at Matthews Arena on October 30 thanks in part to two goals from Craig Puffer (New Canaan, Conn.).
- Northeastern's Zach Aston-Reese (Staten Island, N.Y.) has recorded eight points (7g, 1a) in his last three games, including two hat tricks, and is a three-game goal streak. The senior forward ranks second amongst Hockey East players in overall scoring with 33 points (14g, 21a). Behind Aston Reese, Dylan Sikura (Aurora, Ont./12g, 18a) and Adam Gaudette (Braintree, Mass./19g, 10a) rank fifth and sixth, respectively, in Hockey East overall scoring.

No.12 Notre Dame vs. Michigan Tech – Fri. 1/6, Sat. 1/7 at ND
- Notre Dame is 2-0-0 against WCHA opponents this season. The two wins come from last weekend's series-sweep of Alaska in which junior goaltender Cal Petersen (Waterloo, Iowa) picked up two shutouts. The junior netminder leads all Hockey East goaltenders with four shutouts, two of which came against Hockey East opponents (UMass - 12/3, Northeastern - 11/13).
- Anders Bjork (Mequon, Wis.) is currently on a five-games point streak where the junior has tallied 14 points (5g, 9a). Bjork currently ranks second amongst Hockey East skaters in total scoring with 32 points (14g, 18a). UConn vs. Yale – Sat. 1/7 at Yale
- UConn will look to beat its in-state rival Yale for the first time in program history. To date, Yale is 11-0-0 against the Huskies in a series that dates back to 1974.
- The Huskies are currently riding a five-game unbeaten streak, with wins over ranked opponents UMass Lowell and St. Cloud State, including a tournament title at the Desert Hockey Classic.
- UConn's offensive leader Tage Thompson (Orange, Conn.) will return to the lineup after representing the United States in the World Junior Championship. The sophomore leads the team with 20 points (12g, 8a). Thompson has recorded four points (1g, 3a) thus far in the World Junior tournament.

Merrimack vs. Cornell – Sat. 1/7 at MC
- Merrimack will be playing Cornell for the second time this season. The Warriors earned a 3-2 victory at Lawler Rink on October 28 as Drew Vogler (Florissant, Mo.) made 33 saves in the winning effort.
- Merrimack nearly split games with ECAC Hockey foes this season, going 3-2-0 with a series sweep of Colgate and losses to Clarkson and St. Lawrence. Maine vs. USA Hockey's National Team Development Program – Fri. 1/6 at ME
- Maine welcomes USA Hockey's National Team Development Program for an exhibition contest at Alfond Arena. The U-18 program is currently 0-2-0 against Hockey East schools after playing exhibitions against Notre Dame and Boston University in October. The U-18's are 1-8-0 against NCAA division one programs this season, with its only win a 2-1 victory over currently-ranked No. 2 Minnesota Duluth.
- Maine will have a chance to scout future Hockey East players, as six players on the U-18 roster have committed to play for Hockey East schools after this season.