Weekly Release: UConn, UMass Lowell Capture Tournament Titles
Hockey East Rolls to 12-3-2 Non-League Holiday Break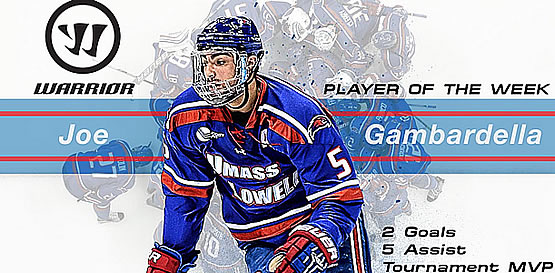 Warrior Hockey Players of the Week Joe Gambardella of UMass Lowell
AROUND HOCKEY EAST: Two Hockey East teams captured holiday tournament titles to cap the 2016 calendar year as UMass Lowell toppled Colgate, 3-2, and host Dartmouth, 7-4, in the Ledyard Bank Classic and UConn downed No. 18 St. Cloud State, 4-3, and Brown, 4-1, in the Desert Hockey Classic. UMass Lowell senior forward Joe Gambardella (Staten Island, N.Y.) racked up seven points in the two outings, earning All-Tournament Team and MVP honors as rookie netminder Tyler Wall (Leamington, Ont.) backboned his team to the pair of wins. UConn goaltender Rob Nichols (Dallas, Texas) stopped 48 shots in two victories to help the Huskies earn the Desert Hockey Classic trophy while he also earned MVP accolades for his efforts. Junior forward Spencer Naas (Minnetonka, Minn.) had a four-point (3g, 1a) showing across tournament play ... Providence earned three points in a two-game home set with No. 2 Denver to end 2016 on a high note, skating to a 2-2 draw Friday before toppling the Pioneers, 3-1, Saturday. Rookie forward Josh Wilkins (Raleigh, N.C.) scored the game-winning goal for the Friars, finishing the night with nine shots on net while Hayden Hawkey (Parker, Colo.) stopped 47 shots in the two outings ... Captain Cal Petersen (Waterloo, Iowa) stood tall in net for Notre Dame over the weekend, earning back-to-back shutouts against Alaska for his third blank sheet in four games while stopping 55 shots. Junior defenseman Jordan Gross (Maple Grove, Minn.) scored a goal and added four assists in the sweep of Alaska to finish with a plus-four rating with 11 shots on net ... Northeastern senior forward Zach Aston-Reese (Staten Island, N.Y.) scored his second hat trick in as many games while sophomore netminder Ryan Ruck (Coto de Caza, Calif.) stopped a career-high 38 shots in a 8-2 win over Clarkson on Friday ... Vermont used four points from senior forward Brady Shaw (Ottawa, Ont.) to sweep Bentley in Burlington, 7-1 and 3-1. Junior forward Rob Darrar (Monroe Township, N.J.) had a four-point night of his own in the 7-1 win ... Boston College fell to Quinnipiac, 3-1, in the opening round of the Three Rivers Classic in Pittsburgh, before earning a 1-1 tie with Ferris State in the consolation game. Sophomore defenseman Michael Kim (Toronto, Ont.) scored the game-tying goal with 4:47 left in regulation to help the Eagles earn the point ... Merrimack earned a 4-2 win over Northern Michigan at the Florida College Classic consolation game after dropping a 3-0 decision to Colorado College ... UMass advanced to the championship game of the Mariucci Classic with a 2-1 overtime win against Alabama Huntsville before falling to hosts Minnesota, 4-1 ... New Hampshire and Maine squared off in a non-league game at SNHU Arena in Manchester, N.H. Despite two goals from Maine senior defenseman Eric Shurhamer (St. Paul, Minn.), the Wildcats earned a 6-4 victory with four-point nights from junior forward Jason Salvaggio (Hanson, Mass.) and Tyler Kelleher (East Longmeadow, Mass.) who each had two goals and two assists. IN THE
---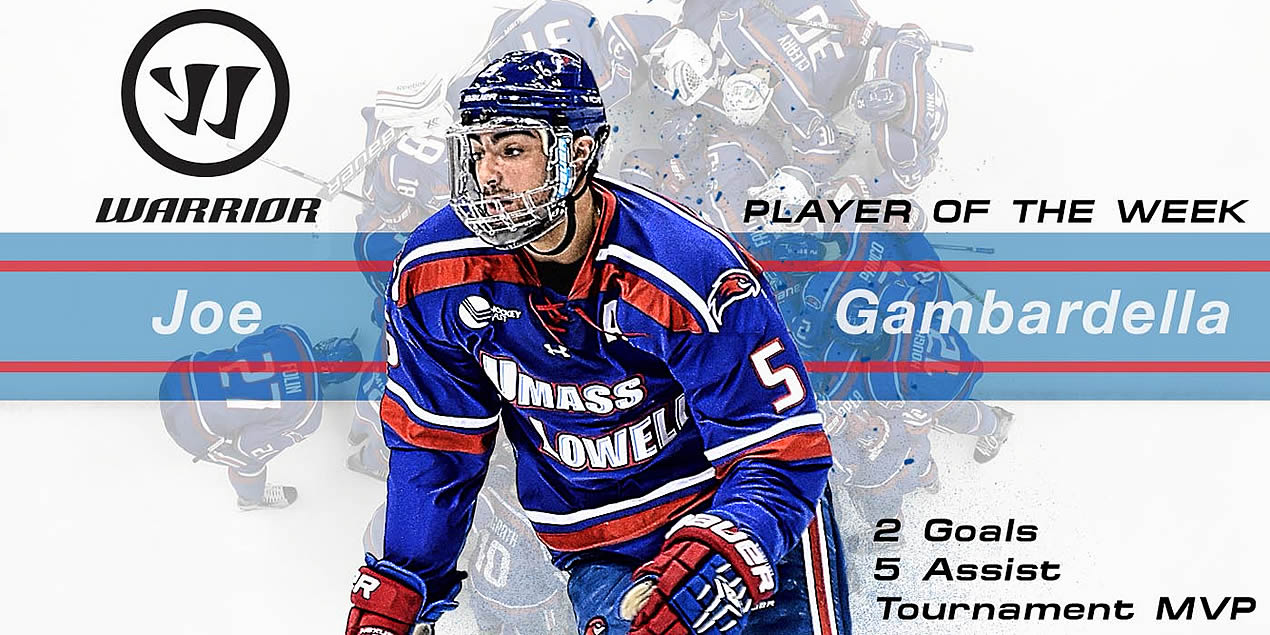 JOE GAMBARDELLA - UMASS LOWELL

Joe Gambardella (Staten Island, N.Y.) racked up seven points (2g, 5a) to help the River Hawks to a Ledyard Classic championship. The senior forward was named MVP of the tournament and was also selected to the All-Tournament Team for his effort.
---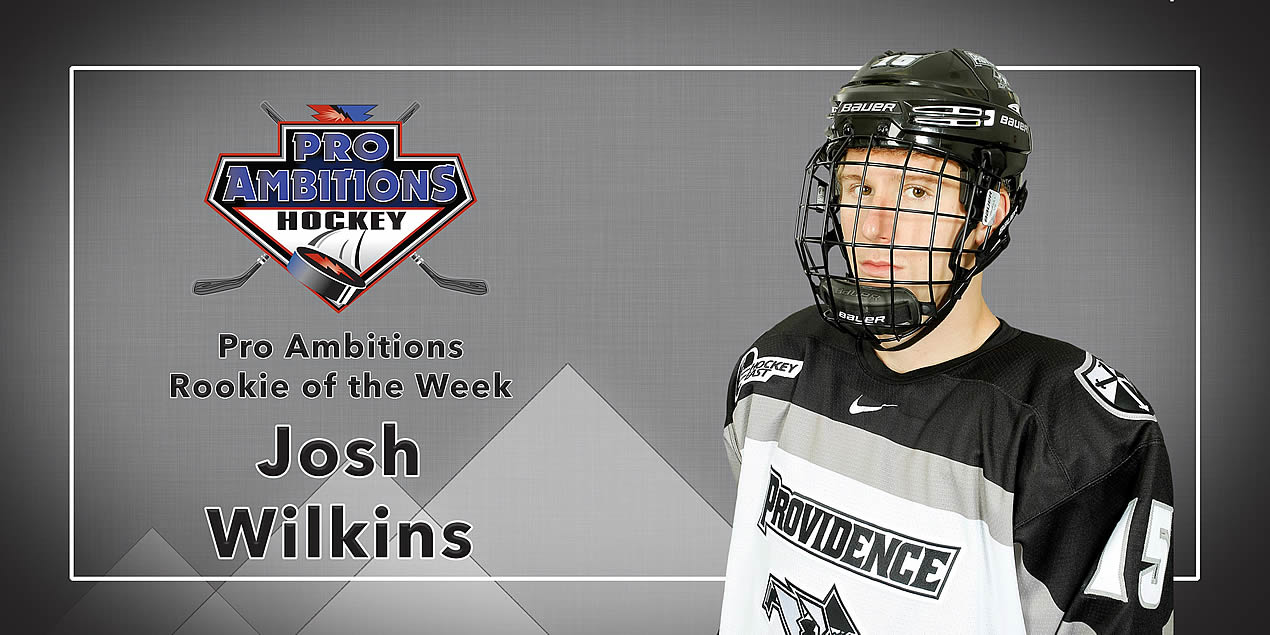 JOSH WILKINS - PROVIDENCE

Josh Wilkins (Raleigh, N.C.) fired nine shots on net and got the game-winning goal in a 3-1 win over No. 2 Denver Saturday night. In Friday night's 2-2 draw with the Pioneers, Wilkins posted one shot on net and an even plus-minus rating.
---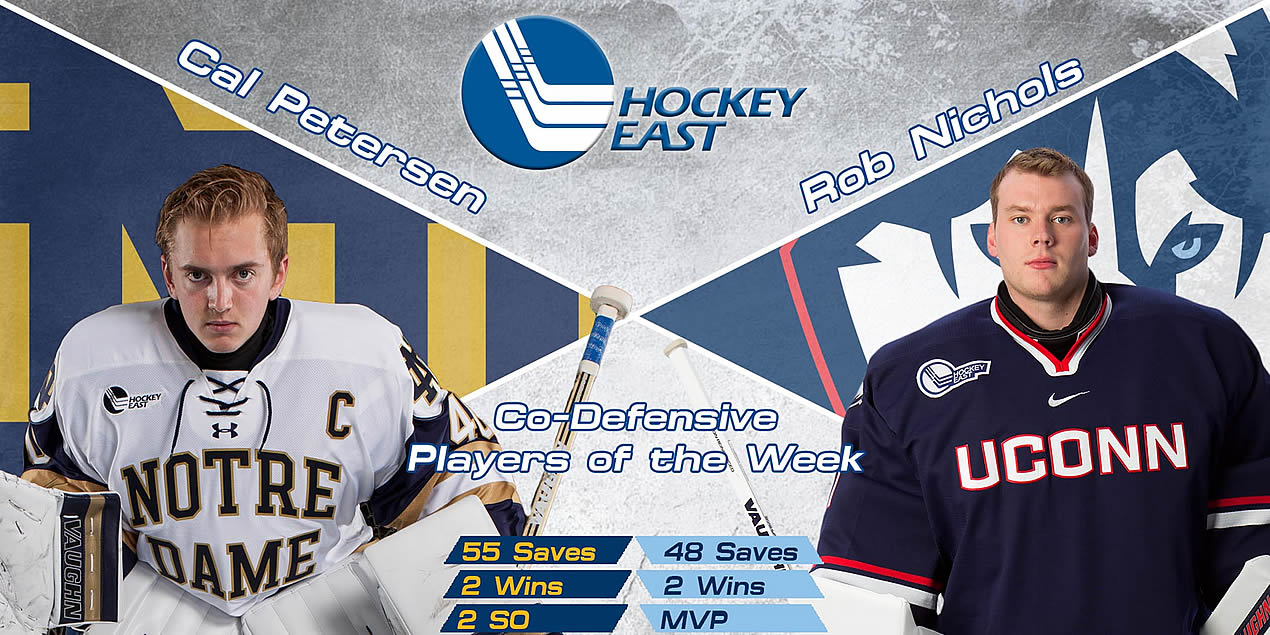 CAL PETERSEN - NOTRE DAME
ROB NICHOLS - UCONN

Cal Petersen (Waterloo, Iowa) posted back-to-back shutouts for the first time in his career, helping the Irish sweep Alaska 5-0 and 4-0 in consecutive nights. He stopped a season-high 34 shots in Saturday's win to make 55 saves in the two outings.

Rob Nichols (Dallas, Texas) earned a pair of wins to backbone UConn to a tournament title and earned MVP accolades at the Desert Hockey Classic. He stopped 33 shots in a 4-3 win over St. Cloud State and made 15 stops in a 4-1 win over Brown in the title game.
---
HOCKEY EAST WEEKLY TOP PERFORMERS
Michael Kim, BC (So., D; Toronto, Ont.) Scored the game-tying goal with 4:47 left in regulation to help the Eagles skate away with a draw against Ferris State in the Three Rivers Classic.
Ryan Edquist, BC (Fr., G; Lakeville, Minn.) Turned away a career-high 36 shots against Ferris State to help BC earn a draw in the third-place game of the Three Rivers Classic.
Spencer Naas, UConn (Jr., F; Minnetonka, Minn.) Posted a four-point weekend to help pace the Huskies to the Desert Hockey Classic championship over the weekend, scoring three goals and adding an assist. UConn downed No. 18. St. Cloud State, 4-3, and Brown, 4-1.
Tyler Wall, UML (Fr., G; Leamington, Ont.) Wall stopped 39 of 42 shots in two wins at the Ledyard Classic.
Dylan Zink, UML (Sr., D; Madison, Wis.) Scored twice in Saturday's 7-4 win, including the tournament-winning tally and was named to the All-Tournament Team for his efforts.
Zach Aston-Reese, NU (Sr., F; Staten Island) Scored his second hat trick in as many games to help Northeastern down Clarkson, 8-2.
Ryan Ruck, NU (So, G; Coto de Caza, Calif.) Stopped a career-high 38 saves in an 8-2 win over Clarkson.
Jordan Gross, ND (Jr., D; Maple Grove, Minn.) Scored a goal and added four assists in a sweep of Alaska to finish with a plus-four rating with 11 shots on net.
Cam Morrison, ND (Fr., F; Aurora, Ont.) Notched a goal and an assist in a 5-0 win over Alaska Saturday.
Brady Shaw, UVM (Sr., F; Ottawa, Ont.) Picked up four points (2g, 2a) in a weekend sweep of Bentley.
Rob Darrar, UVM (Jr., F; Monroe Township, N.J.) Had a career-high four points (2g, 2a) in Friday's 7-1 win.