Wednesday, January 11, 2017
2017 Road to the TD Garden Schedule Announced
Lamoriello Trophy To Take Trip To All 12 Campuses in 2017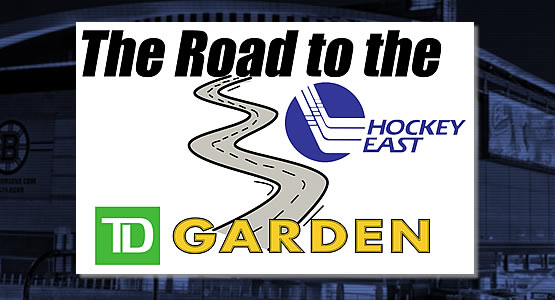 Lamoriello Trophy To Take Trip To All 12 Campuses in 2017
WAKEFIELD, Mass. – Hockey East Commissioner Joe Bertagna has revealed the 2017 Road to the TD Garden schedule, leading to the 2017 Hockey East Tournament Championship to be held at the TD Garden. The ninth annual campaign will feature one of the most recognizable trophies in college hockey, once again bringing the Lou Lamoriello Trophy, awarded annually to the Hockey East Tournament champion, to each of the 12 Hockey East campuses.
The Road to the TD Garden campaign will be completed ahead of the 33rd annual league tournament, March 17- 18, 2017. A full schedule can be found below.
"We are happy to bring this iconic college hockey trophy to our fans on our campuses," said Bertagna. "The Lamoriello Trophy represents excellence at the highest level of amateur hockey."
Hockey East's Graduate Intern, Ryan Smith, will be responsible for transporting and displaying the Lamoriello Trophy on the tour. In conjunction with the Road to the TD Garden, Hockey East will be launching Ryan's Championship Road Trip across all league social media platforms. Fans will be able to stay up-to-date on the trophy's whereabouts on its journey to each school and get a behind-the-scenes look at the tour on the @hockey_east Twitter and Instagram accounts.
Additionally, one of the first five people at each Road to the TD Garden stop to take a picture with Ryan and the tro - phies, and post to Twitter and Instagram with the hashtag #HockeyEastRTG will be randomly chosen to win a pair of tickets to their choice of the Hockey East semifinals or Hock ey East championship game. Contestants must follow @hockey_east and tag the account in the picture in order to be eligible.
For more information, contact Ryan Smith via email at intern1@hockeyeastonline.com or phone at 781-245-2122.
2017 Road to the TD Garden Schedule

Day
Away
Home
Time
Jan. 7
Frozen Fenway
4pm
Jan. 13
Notre Dame
Merrimack
7:05pm
Jan. 14
Frozen Fenway
4pm
Jan. 20
Maine
Boston University
7:35pm
Jan. 21
UMass Lowell
Providence
7:05pm
Jan. 27
Providence
New Hampshire
7pm
Jan. 28
Notre Dame
Boston College
7pm
Feb. 4
Vermont
Notre Dame
6:30pm
Feb. 6
Beanpot
at TD Garden
5pm
Feb. 10
Boston University
UMass Lowell
7:15pm
Feb. 11
New Hampshire
Vermont
7:05pm
Feb. 13
Beanpot
at TD Garden
5pm
Feb. 17
Northeastern
UConn
7:05pm
Feb. 18
UConn
Northeastern
7pm
Feb. 24
Providence
UMass
7pm
Feb. 25
Northeastern
Maine
7pm