Wednesday, December 28, 2016
Hockey East Weekend Preview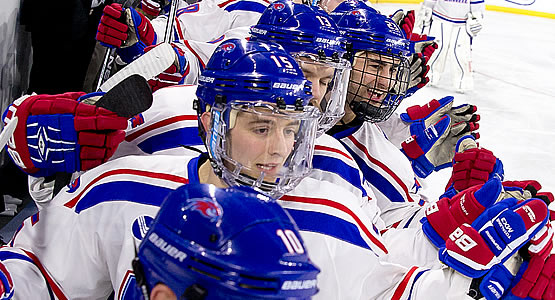 UMass Lowell will play three games in a five-day strecth starting on Friday
Merrimack vs. Colorado College/Cornell or Northern Michigan (Florida College Classic) – Weds. 12/28; Thurs. 12/29, at Estero, Fla.
- This will mark Merrimack's first appearance in the Florida College Classic, and the second all-time matchup between Merrimack and Colorado College. The Tigers beat the Warriors in the previous matchup, 5-0, in October of 2006.

No. 5 Boston College vs. No. 13 Quinnipiac/Ferris State or RMU (Three Rivers Classic) – Thurs. 12/29, Fri. 30 at Pittsburgh, Pa.
- This will be the Eagles' second appearance in the Three Rivers Classic. The Eagles defeated Bowling Green and Penn State to win the 2013 tournament championship.
- Thursday's matchup will feature 2016 Frozen Four semifinalists, Boston College and Quinnipiac. The Bobcats defeated the Eagles, 3-2, to advance to the title game in Tampa, Florida in April.

No. 7 UML vs. Colgate/Army West Point or Dartmouth (Ledyard Bank Classic), RPI – Fri. 12/30, Sat. 12/31 at DC; Tue. 1/3 at RPI
- UMass Lowell will be making its second appearance in the Ledyard Bank Classic, hosted in Hanover, New Hampshire. In their 2009-10 appearance, the River Hawks defeated Holy Cross, but lost in the championship game to Northeastern.
- UMass Lowell is 4-2-2 in non-conference play this season, including 3-1-2 against NCHC competition and 1-1-0 with ECAC foes.

UMass vs. UAH/Mercyhust or No. 11 Minnesota (Mariucci Classic), AIC – Fri. 12/30, Sat. 12.31 at Minn.; Tue. 1/3 at UMass
- UMass will make its third appearance in the Mariucci Classic as the Minutemen previously made appearances in 1999 and 2006. UMass has not yet advanced to the tournament title game.
- These three games will be UMass's final games against non-Hockey East opponents in 2016-17.

UConn vs. No. 18 St. Cloud St., Arizona State/ Brown (Desert Hockey Classic) – Fri. 12/30, Sat. 12.31 at ASU
- UConn returns to the Desert Hockey Classic for the second consecutive year after dropping Arizona State, 3-0 in the third-place game of the inaugural tournament.

No. 14 Vermont vs. Bentley, No. 17 St. Lawrence – Fri. 12/30, Sat. 12/31, Tue. 1/3 at UVM
- Vermont will host a pair of non-conference opponents in Bentley and St. Lawrence over the holiday break.
- Bentley and St. Lawrence are a combined 3-3-2 against Hockey East opponents this season. Bentley has gone 1-1-1 against UNH and Northeastern, while St. Lawrence went 2-2-1 against UNH, Merrimack, Providence, UMass Lowell and UMass.

No. 12 Notre Dame vs. Alaska – Sat. 12/31, Sun. 1/1 at ND
- Notre Dame will host former CCHA for Alaska for a two-game series in South Bend this weekend. In 59 previous match ups, the Fighting Irish are 30-25-4 against the Nanooks.
- Notre Dame last played Alaska in 2013 during the Irish's final season in the CCHA. Alakska swept Notre Dame in that series.

Maine vs. New Hampshire – Fri. 12/30 at SNHU Arena, Manchester, NH
- This will mark the third matchup between Maine and New Hampshire this season as the two teams square off in a non-conference title at SNHU Arena. The Wildcats swept the Black Bears in a home-and-home conference series earlier in December.
- Tyler Kelleher (Longmeadow, Mass.) has recorded six points (4g, 2a) in the Wildcats' previous two games against Maine. The senior forward ranks tops in Hockey East and fourth nationally with 31 points (12g, 19a).

Northeastern vs. Clarkson, Yale – Fri. 12/30 at NU, Tue. 1/3 at Yale
- Northeastern will face Clarkson for the 21st time on Friday. Clarkson holds the series advantage with a record of 13-6-1.
- A series that began in 1950, Yale and Northeastern have met 42 times, with the Bulldogs holding a slight lead of 21-20-1. Northeastern is 7-3-0 in its past 10 tilts with Yale.

No. 6 Boston University vs. No. 9 Union – Tue. 1/3 at BU
- Boston University has had seven players named to IIHF World Junior Championship rosters, the largest contingent ever from an NCAA team. Providence at No. 2 Denver – Sat. 12/31 at PC
- Providence and Denver will meet for the 16th time in series history on Saturday, the Friars hold the series lead with a record of 8-6-1
- Providence is 1-1-0 against the NCHC this season, splitting an opening-season series against Miami.