Wednesday, December 23, 2015
Hockey East Holiday Week Preview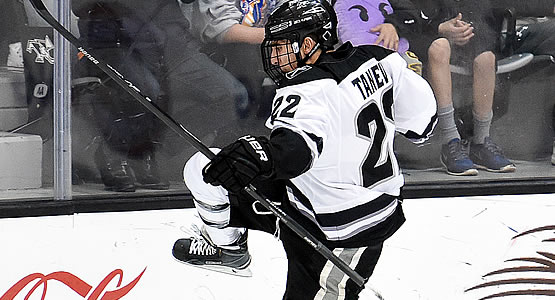 No. 1 Providence (along with No. 4 Boston College) will compete in the Florida College Classic
No. 1 Providence vs. No. 9 Cornell/vs. No. 4 Boston College/Ohio State - Mon. 12/28, Tues 12/29 at Germain Arena
- Providence will look to keep their 19-game unbeaten streak alive as they travel to Estero, Florida to compete in the Florida College Classic.
- Last time out, the Friars defeated Brown, 4-1, in game one of the Mayor's Cup on December 10.
- In that game, senior Nick Saracino (St. Louis, Mo.) tallied his 100th and 101st career points, adding two assists in the game.
- Freshman defenseman Steve Ruggiero (Kings Park, N.Y.) registered his first career point as a Friar, dishing out an assist on the third Friar goal of the game.

No. 4 Boston College vs. Ohio State/vs. No. 1 Providence/No. 9 Cornell - Mon. 12/28, Tues. 12/29 at Germain Arena
- Boston College will take on Ohio State in the first round of the Florida College Classic next Monday. The winner plays the victor of Providence and Cornell in the title game.
- Last time the Eagles took the ice, Jerry York's squad fell to Notre Dame, 4-3, at Conte Forum on December 10.
- Austin Cangelosi (Estero, Fla.) led the Boston College offense with two goals and an assist. Zach Sanford (Manchester, N.H.) also recorded three assists in the game.
- BC will be without the services of top point-getter Colin White (Hanover, Mass.) as he travels to Finland with Team USA to compete in the IIHF World Junior Championship.

No. 8 UMass Lowell vs. Clarkson/vs. No. 15/14 Penn State/Robert Morris - Mon. 12/28, Tues.12/29 at Energy Center
- UMass Lowell will take on Clarkson in the first round of the Three Rivers Classic; the winner will move on to face the winner of Penn State and Robert Morris.
- The River Hawks have not played since Dec. 5-6, when they were swept in a home-andhome series with UConn.
- Kevin Boyle (Manalapan, N.J.) made 31 saves in the 2-1 loss of the second game of the series.

Merrimack vs. Army West Point - Tues. 12/29 at West Point
- Merrimack takes no time off as the Warriors will travel to West Point next week to take on Army in a one-game road trip to end 2015.
- Last weekend the Warriors defeated Canisius, 4-1, on Sunday (Dec. 20) at Lawler Arena.
- Ben Bahe (Stillwater, Minn.) had a two-point outing, recording a goal and an assist in the game. Brian Christie (West Chester, Pa.) also dished out two assists in the game. Christie and Bahe are number one and two on Merrimack for point scoring.
- Sophomore forward Jace Hennig (Port Moody, B.C.) netted two goals for the Warriors en route to collecting the win and was named Warrior Hockey East Player of the Week. Freshman netminder Drew Vogler (Florissant, Mo.) kicked out 18 of 19 shots in his first career start to record his first-ever victory as a Warrior and garner Hockey East Defensive Player of the Week accolades.

New Hampshire vs. Maine - Tues. 12/29 at Maine (Cross Insurance Arena), Wed. 12/30 at UNH (Verizon Wireless Arena)
- New Hampshire and Maine play a set of neutral site, non-conference games at Cross Insurance Arena in Portland, Maine and the Verizon Wireless Arena in Manchester, New Hampshire next week to conclude 2015.
- In their last contest Dec. 11, the Wild Cats defeated Dartmouth, 4-1, at the Whittemore Center. Andrew Poturalski (Williamsville, N.Y.) and Maxim Gaudreault (Annapolis, Md.) each scored a pair of goals in the game. Tyler Kelleher (Longmeadow, Mass.) also dished out two helpers in the contest. Poturalski and Kelleher are both now on nine-game point streaks.
- Last time Maine played was a defeat at the hands of New Hampshire, 5-2 (Dec. 5). The Black Bears skated to a draw with New Hampshire the night before, 3-3.
- Steven Swavely (Reading, Pa.) and Cedric Lecroix (Shefford, Que.) accounted for the Black Bears' scoring in the 5-2 setback.

Vermont vs. Lake Superior State/ Colgate - Tues. 12/29, Wed 12/30 at UVM
- Vermont will face Lake Superior State and Colgate in the Catamount Cup hosted at Gutterson Fieldhouse in Burlington, Vermont.
- The Catamounts were defeated by Union, 3-2, in overtime Dec. 20. Freshman Packy Munson (Hugo, Minn.) continues to assume starting goaltender duties for injured Mike Santaguida (Mississauga, Ont.), and made 32 saves in the game.
- Conor O'Neil (Hummelstown, Pa.) got the scoring started for the Catamounts in the first period, followed by Brendan Bradley's (Richboro, Pa.) fourth goal on the year in the second period.