Monday, December 21, 2015
Weekly Release: Northeastern Clips Michigan State, Merrimack Downs Canisius
Four-Game Weekend Wraps First Half of 2015-16 Season
Warrior Hockey Player of the Week Jace Hennig of Merrimack
AROUND HOCKEY EAST: In the final four contests before the winter break, Hockey East programs went 2-1-1 in non-conference and exhibition play ... Friday night saw Massachusetts take on the U.S. National Junior Team in a pre- World Juniors tune up. Team USA clipped the Minutemen, 4-0 at the Mullins Center ... In Saturday night's only contest, the Huskies' Zach Aston-Reese (Staten Island, N.Y.) scored the game-winning goal while rookie netminder Ryan Ruck (Coto de Caza, Calif.) stopped 26 shots to pick up his first collegiate victory against the Spartans of Michigan State ... Sunday saw the Catamounts take Union to overtime after scoring the game's first two goals, but Vermont ultimately fell, 3-2. The Cats saw goals from Conor O'Neil (Hummelstown, Pa.) and Brendan Bradley (Richboro, Pa.) ... The No. 20 Merrimack Warriors toppled Canisius, 4-1, Sunday afternoon at home. Freshman goaltender Drew Vogler (Florissant, Mo.) stopped 18 of 19 shots on the evening to record his first career win in his first collegiate start. Sophomore forward Jace Hennig (Port Moody, B.C.) netted two goals for the Warriors en route to collecting the win ... Hockey East teams are back in action one week from today when No. 1 Providence and No. 4 Boston College travel to Estero, Florida to compete in the Florida College Classic against Cornell and Ohio State and No. 8 UMass Lowell heads west to Pittsburgh, Pennsylvania to do battle with Clarkson, Penn State and Robert Morris at the Three Rivers Classic.
---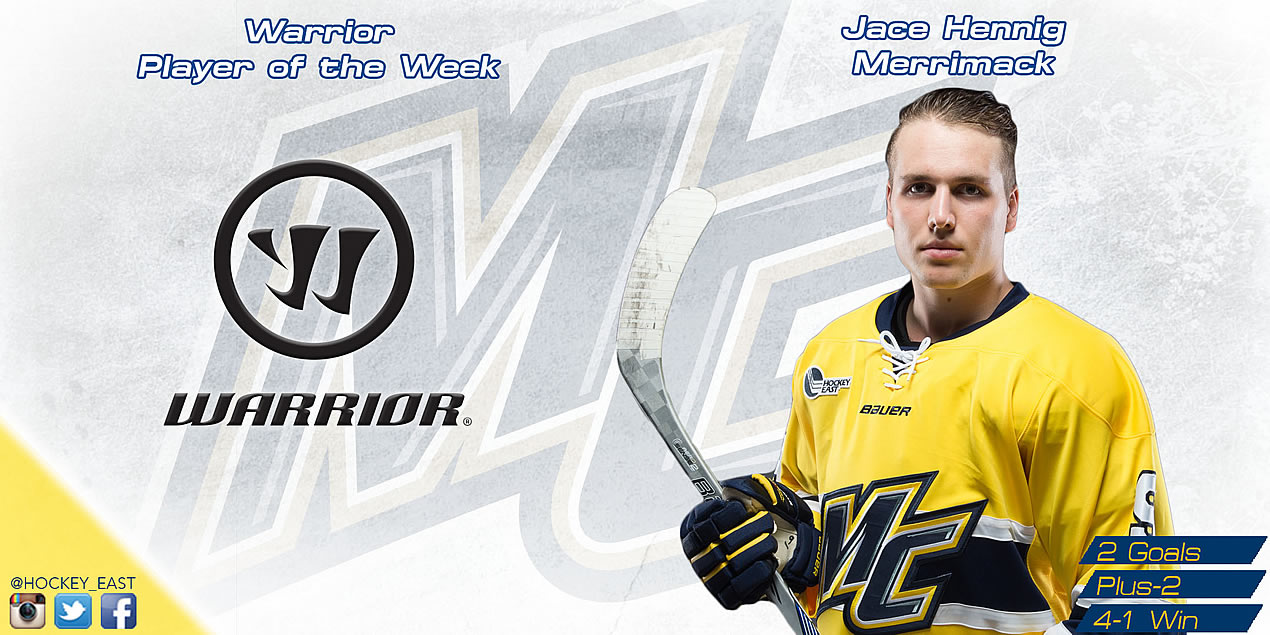 JACE HENNIG - MERRIMACK

The sophomore forward found the back of the net twice for the Warriors in a 4-1 win over Canisius Sunday afternoon. He scored the final two tallies of the game to finish plus-two on the evening.
---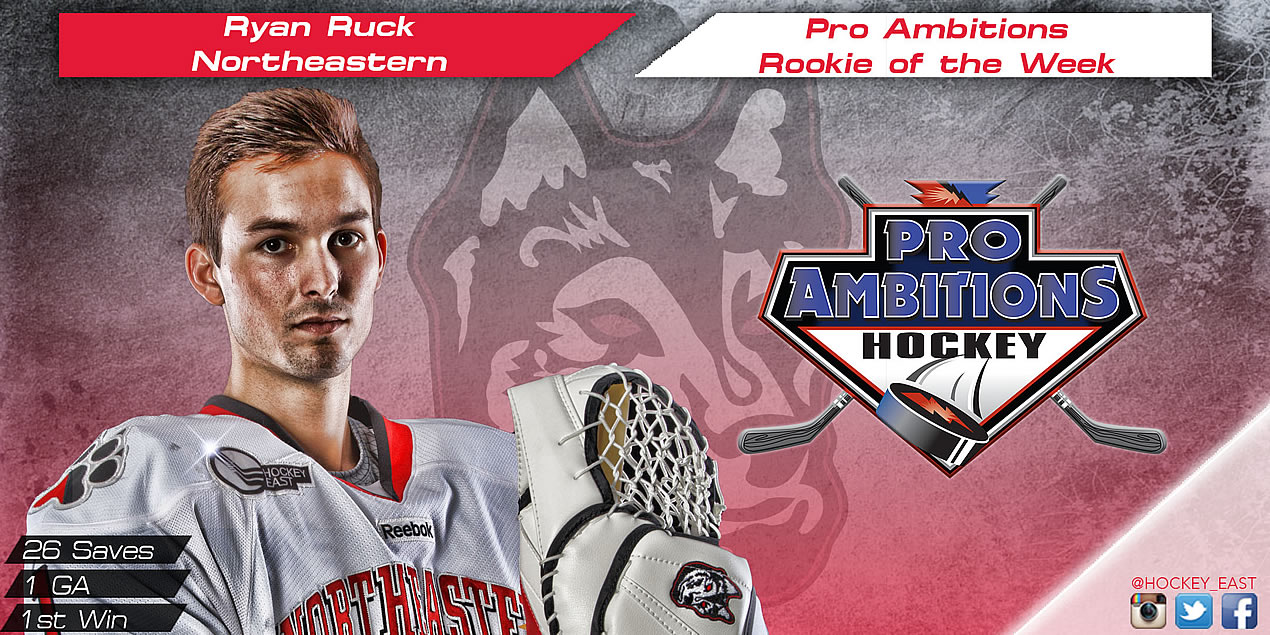 RYAN RUCK - NORTHEASTERN

Ruck recorded his first collegiate victory Saturday night in a 2-1 win against Michigan State at Matthews Arena. The rookie netminder stopped 26 saves on the night as he backboned the Huskies to a win entering winter break.
---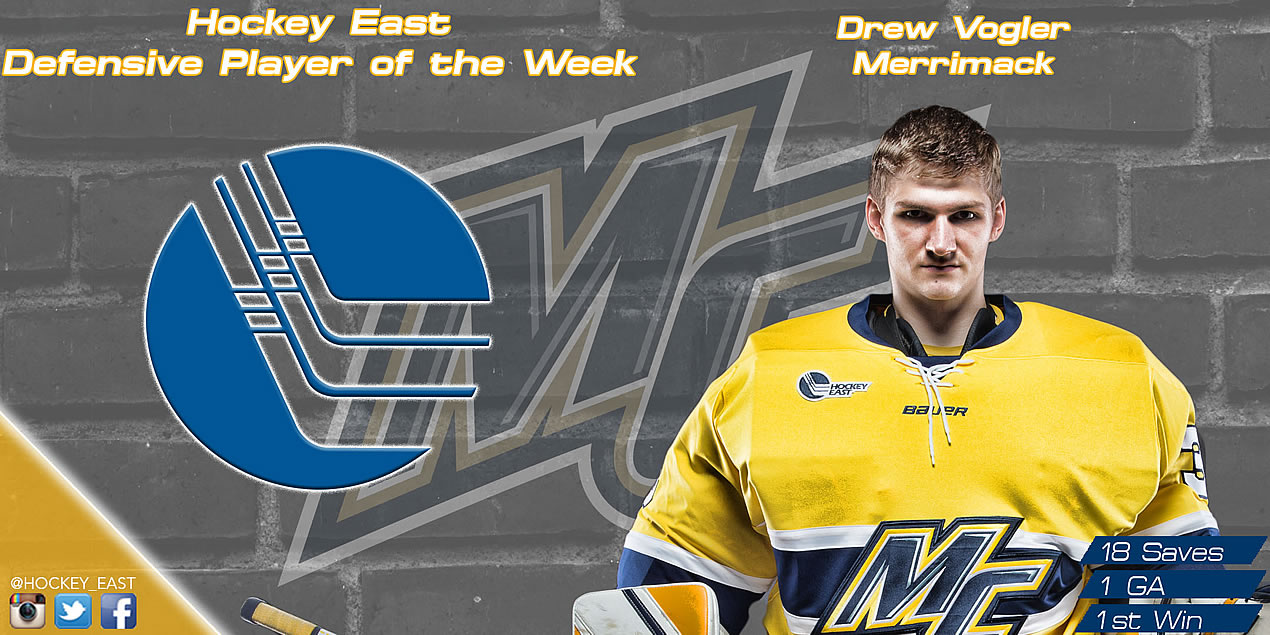 DREW VOGLER - MERRIMACK

Vogler made his first career start on Sunday afternoon, kicking out 18 of 19 shots faced against Canisius to help the Warriors to a 4-1 victory. In that game, he collected an even 1.00 goals against average and .947 save percentage.
---
HOCKEY EAST WEEKLY TOP PERFORMERS
Zach Aston-Reese, NU (Jr., F; Staten Island, N.Y.) Netted the eventual game-winning goal against Michigan State, pushing his point streak to a career-high five games.
Ryan Ruck, NU (Fr., G; Coto de Caza, Calif.) Stopped 26 saves in a 2-1 victory over Michigan State Saturday night, earning his first collegiate victory in the process.
Jace Hennig, MC (So., F; Port Moody, B.C.) Posted the first two-goal outing of the season for Merrimack, pushing the Warriors to a 4-1 victory over Canisius Sunday afternoon. He potted the final two strikes of the contest to finish plus-2 on the evening.
Ludvig Larsson, MC (Fr., F; Malmo, Sweden) Scored a power-play marker for the second straight game in the 4-1 victory while firing seven shots on net in the game.
Drew Vogler, MC (Fr., G; Florissant, Mo.) In his first career start, stopped 18 of 19 shots to backbone Merrimack to a 4-1 win at home. Finished with a .947 save percentage and 1.00 goals against average.
Ben Bahe, MC (Sr., F; Stillwater, Minn.) Registered a goal and an assist for two points and a plus-two rating in Merrimack's only game last weekend.
Brian Christie, MC (Sr., F; West Chester, Pa.) Dished out two helpers while winning 10 of 17 faceoffs taken against Canisius.