Final Four Teams Vie for 31st Hockey East Championship
BU Set for UNH; UML Prepares for UVM Seeking Third Consecutive Title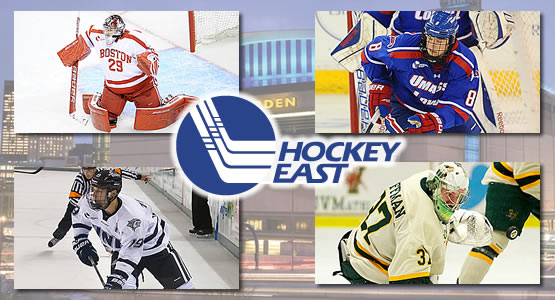 BU Set for UNH; UML Prepares for UVM Seeking Third Consecutive Title
No. 1 Boston University vs. No. 8 New Hampshire - Fri. 3/20 at TD Garden
- No. 1 seed Boston University and No. 8 seed New Hampshire will face-off against each other in the 175th all-time meeting between the Terriers and Wildcats and the fourth time in Hockey East semifinal history.
- BU owns a 2-1-0 edge over the Wildcats in the Hockey East semifinals and the Terriers also lead the all-time series with a record of 103-52-19. Boston University and New Hampshire split a home-and-home series this season, with BU earning a 6-4 win at Agganis Arena Feb. 13, while UNH bounced back the following night at the Whittemore Center, 4-3.
- Boston University freshman forward and Warrior Hockey Player of the Week Jack Eichel leads the nation in points per game (1.79) and assists per game (1.21), and he is 11th in goals per game (0.59). On the season, the North Chelmsford, Massachusetts native has 20 goals and 41 assists for 61 points in 34 games and was named a Hobey Baker Top 10 Finalist Thursday morning.
- New Hampshire head coach Dick Umile owns a 560-312-97 all-time record and enters the weekend 47-33-1 in the Hockey East postseason.
- Wildcat freshman goaltender and Hockey East Co-Defensive Player of the Week Danny Tirone made 105 saves on 109 shots last weekend over three games to backbone UNH to a series win at Providence.

No. 4 UMass Lowell vs. No. 7 Vermont - Fri. 3/20 at TD Garden
- No. 4 UMass Lowell defeated No. 5 Notre Dame in three games to advance to the semifinals for the third consecutive season. The River Hawks have won the Lamoriello Trophy the past two years in 2013 and 2014 under head coach Norm Bazin.
- No. 7 Vermont enters the TD Garden for the Hockey East semifinals for the first time since 2010 after eliminating No. 3 Boston College in a three-game series. Catamount junior goaltender and Hockey East Co-Defensive Player of the Week Brody Hoffman made 87 saves in three appearances, including a 36-save shutout to backstop UVM to victory, 1-0, in Game 3.
- UMass Lowell possesses a 4-1-0 record all-time against Vermont in the postseason, with all five meetings coming in the quarterfinals. On Feb. 27 and 28, the River Hawks took three out of four points from Vermont at the Tsongas Center to close out the regular season.