Hockey East Announces 2014-15 Pro Ambitions All-Rookie Team
Seven Other Individual, Team Awards Announced Ahead of 2015 Awards Banquet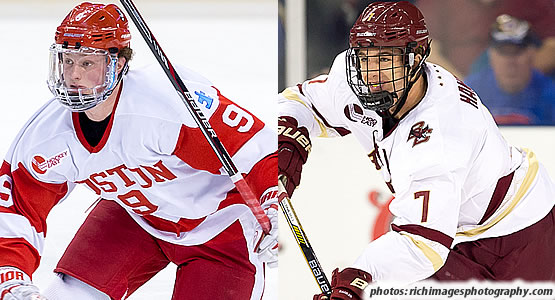 Jack Eichel (BU) and Noah Hanifin (BC) were unanimous All-Rookie Team selections
WAKEFIELD, Mass. - The Hockey East Association announced Wednesday the 2014-15 Pro Ambitions All-Rookie Team, as voted on by the league's 12 head coaches, and seven other season-long awards. Each athlete will be recognized at the annual Hockey East Awards Banquet Thursday night at the Royal Sonesta Hotel in Cambridge, Massachusetts.
The 2014-15 Pro-Ambitions All-Rookie Team includes: goaltender Cal Petersen (Notre Dame/Waterloo, Iowa), defensemen Noah Hanifin (Boston College/Norwood, Massachusetts) and Brandon Montour (Massachusetts/ Ohsweken, Ontario) and forwards Alex Tuch (Boston College/Baldwinsville, New York), Jack Eichel (Boston University/N. Chelmsford, Massachusetts), and C.J. Smith (UMass Lowell/Des Moines, Iowa).
Also set to be recognized in Thursday night's awards banquet will be Mike Paliotta (Vermont/ Wesport, Connecticut) as Old Time Hockey Best Defensive Defenseman and Noel Acciari (Providence/Johnston, Rhode Island) as Gladiator Custom Mouthguards Best Defensive Forward. Additionally, Michael Sit (Boston College/Edina, Minnesota) and Dalen Hedges (Northeastern/Ottawa, Ontario) receive the Len Ceglarkski Sportsmanship Award. Eichel will take home the Army ROTC Three Stars Award and be honored as the Squad Locker Scoring Champion after scoring 14 goals and adding 30 assists for 44 points in league play this year. Jon Gillies (Providence/ South Portland, Maine) has earned claim as the Hockey East Goaltending Champion, posting a 1.74 goals against average and .939 save percentage while racking up a 12-8-1 record in Hockey East. Kevin Sneddon's Vermont Catamounts will receive the Charlie Holt Sportsmanship Award, averaging just 8.5 penalty minutes per game after accruing just 186 PIM in 22 league games.
Petersen is named to the All-Rookie squad after finishing second in Hockey East with a 2.06 GAA and .938 SV%, behind only Gillies. The freshman netminder won seven games for the Irish during the regular season and backstopped Notre Dame to a playoff series victory over Massachusetts in the Hockey East Opening Round. Game 1 of that series proved to be the longest college hockey game ever, in which Petersen made an NCAA record 87 saves.
Hanifin joined the Eagles for his rookie campaign as a 17-year-old, posting three goals and 15 assists in 22 games played in Hockey East. He also posted a plus-11 rating on the year while firing 54 shots on net to earn a unanimous selections to the Pro Ambitions All-Rookie Team. Fellow Eagle Tuch tied for the team scoring lead with 10 goals and nine assists for 19 points, also finishing plus-11 in 22 games played in the league.
Montour joined the Minutemen for the second half of the season, becoming a point per game player with two goals and 10 assists in 12 league contests. He collected a six-game point streak Jan. 23-Feb. 13. In total, Montour played 21 games for Massachusetts and racked up 20 points on three goals and 17 assists.
Eichel, another unanimous selection, set the NCAA on fire in his freshman season, leading the country in assists (41), points (61) and plus-minus (plus-42). He was an offensive force in Hockey East, pacing the league in assists (30), points (44), power-play assists (12), power-play points (16), plus-minus (plus-32) and faceoffs won (280) while tying for second in goals (14). He has helped the Terriers return to the Hockey East semifinals for the first time since 2013 as the No. 1 seed.
Smith has helped the UMass Lowell River Hawks capture the No. 4 seed in the Hockey East playoffs in search of their third consecutive Hockey East tournament title. He led UML with 20 points on eight goals and 12 assists in 22 league contests and paced the River Hawks with 34 points overall (15g, 19a) in 36 games.
Each award winner will be honored Thursday night at the Royal Sonesta Hotel in advance of the 2015 Hockey East semifinals, set to be played at TD Garden March 20 at 5 p.m. and 8 p.m.
Pro Ambitions All-Rookie Team
G: Cal Petersen, Notre Dame
D: Noah Hanifin, Boston College *
D: Brandon Montour, Massachusetts
F: Alex Tuch, Boston College
F: Jack Eichel, Boston University *
F: C.J. Smith, UMass Lowell
* denotes unanimous selection
Old Time Hockey Best Defensive Defenseman
Mike Paliotta, Vermont (Sr., D; Westport, Connecticut)
Runner-Up: Ian McCoshen, Boston College (So., D; Hudson, Wisconsin)
Gladiator Custom Mouthguards Best Defensive Forward
Noel Acciari, Providence College (Jr., F; Johnston, Rhode Island)
Runner-Up: Evan Rodrigues, Boston University (Sr., F; Etobicoke, Ontario)
Len Ceglarski Sportsmanship Award
Michael Sit, Boston College (Sr., F; Edina, Minnesota)
Dalen Hedges, Northeastern (So., F; Ottawa, Ontario)
Army ROTC Three Stars Award
Jack Eichel, Boston University (Fr., F; N. Chelmsford, Massachusetts)
Runner-Up: Evan Rodrigues, Boston University (Sr., F; Etobicoke, Ontario)
Squad Locker Scoring Champion
Jack Eichel, Boston University (Fr., F; N. Chelmsford, Massachusetts)
Runner-Up: Evan Rodrigues, Boston University (Sr., F; Etobicoke, Ontario)
Hockey East Goaltending
Champion Jon Gillies, Providence (Jr., G; South Portland, Maine)
Runner-Up: Cal Petersen, Notre Dame (Fr., G; Waterloo, Iowa)
Charlie Holt Team Sportsmanship Award
Vermont Catamounts