Playoff Positions to Be Decided In Final Frantic Weekend
No. 4 BU, NU Square Off in Beanpot Rematch; Battle of Two Top 20's Between No. 14 UML, No. 18 UVM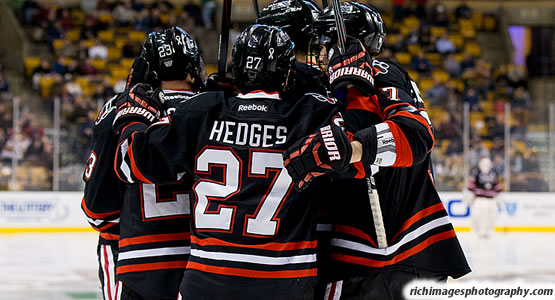 Northeastern and Boston University face-off in a home-and-home series this weekend
No. 4 Boston University vs. Northeastern - Fri. 2/27 at BU; Sat. 2/28 at NU
- Friday and Saturday night will be the second and third time No. 4 Boston University and Northeastern have faced each other this week since Monday's Beanpot Championship, which tournament MVP Matt Grzelcyk and the Terriers took in overtime, 4-3, for their 30th title.
- One point will secure the Hockey East regular season title for BU, while NU is eyeing a first round bye in the Hockey East Tournament. The Huskies sit three points behind Boston College for second place, and are just a point behind UMass Lowell, Notre Dame, and Providence, who are locked in a three-way tie for third.

No. 9 Boston College vs. Notre Dame - Fri. 2/27, Sat. 2/28 at UND
- With a 9-6-5 record in Hockey East play, Warrior Hockey Player of the Week Cal Petersen and the Irish have a chance to clinch a first-round bye and home ice for the Hockey East quarterfinals when the No. 9 Eagles fly to South Bend for the 38th Frozen Holy War. Notre Dame is currently locked in a three-way tie for third place with UMass Lowell and Providence, and sit just two points behind Boston College for second place.
- If BC wins one more game, it will mark the sixth-straight season the Eagles have posted 20 wins or more in a year, and match head coach Jerry York's streak of six-straight 20-win seasons beginning in 2002-03 and ending in 2007-08.

No. 13 Providence vs. Maine - Fri. 2/27, Sat. 2/28 at PC
- Providence junior goaltender Jon Gillies, who is 6-0-1 all-time against Maine with a 1.55 goals-against average, will be making his 100th career start in net for the Friars when the Black Bears visit Schneider Arena for a weekend series. He has backstopped a PC defense that is sixth in the nation and first in Hockey East in scoring defense with a 2.03 goals against average.
- Maine will be looking to lock up home ice advantage in the opening round of the Hockey East tournament, as they sit just a point ahead of New Hampshire and two points ahead of UConn for 8th place. The Black Bears are coming off of a series split last weekend against Northeastern, thanks in part to a hat trick from Pro Ambitions Rookie of the Week Nolan Vesey in Saturday's victory.

No. 14 UMass Lowell vs. No. 18 Vermont - Fri. 2/27, Sat. 2/28 at UML
- UMass Lowell leads Vermont in the Hockey East standings by just a point, which separates five teams slotted from third to sixth place. The River Hawks and Catamounts are also right on top of each other in the Pairwise rankings for the 2015 NCAA Tournament at 16th and 17th place respectively.
- Hockey East Co-Defensive Player of the Week Mike Santaguida turned away 49 of 50 shots last weekend to help UVM take three of four points in a weekend series against Merrimack. UML only played one game last week, as they skated to a 2-2 tie on the road against No. 9 Boston College.

UConn vs. Massachusetts - Fri. 2/27 at UConn
- UConn welcomes UMass to the XL Center for a single game on Friday night to close out the regular season. The Huskies sit in 10th place in the league standings, and could finish as high as eighth or as low as 11th depending on this weekend's Hockey East action.
- UMass split their home-and-home series last weekend against No. 13 Providence, losing on the road, 3-2, in overtime on Friday night and bouncing back for a 2-1 overtime win during Senior Night on Saturday. Hockey East Co-Defensive Player of the Week Steve Mastalerz posted consecutive 40+ save performances against the Friars, and finished the weekend with a 1.92 goals against average and a .953 save percentage in 125:44 of work.

Merrimack vs. New Hampshire - Fri. 2/27, Sat. 2/28 at UNH
- Merrimack and New Hampshire will go head-to-head in the 96th and 97th games all-time between the two teams. UNH owns a 67-19-9 advantage in the series, and is 25-6-2 all-time against MC at the Whittemore Center.
- The Warriors finished last weekend's series at Vermont with a 0-1-1 record, despite 49 saves from senior netminder Rasmus Tirronen in a 0-0 tie on Saturday. MC's Brett Seney is one of five Hockey East freshmen leading their team in points (BU's Jack Eichel, BC's Alex Tuch, UMass' Dennis Kravchenko, UML's C.J. Smith).