WEEKEND PREVIEW: NO. 1 BC FACES NO. 8 NOTRE DAME, NO. 12 BU; MAINE TRAVELS TO NO. 15 UML
~ UMass hosts PC; MC entertains No. 12 BU, UConn; No. 9 UNH faces UVM ~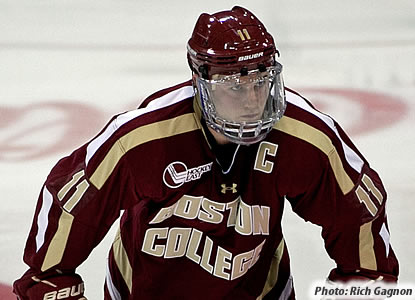 Boston College hosts Notre Dame and visits Boston University this weekend
Providence at Massachusetts (Fri. at the Mullins Center)
- Last year, the Friars won the season series (2-0-1) to run their unbeaten streak vs. UMass to six games.
- Senior forward Tim Schaller played his 100th career game in Providence's 3-2 win at Vermont on Nov. 3rd.
- UMass has only allowed three of its' 18 goals in the opening period this season.

Maine at No. 15 UMass-Lowell (Fri., Sat. at the Tsongas Center)
- The River Hawks won the season series vs. Maine last year, 2-1, and scored four or more goals in both victories, but Maine won the last meeting on Feb. 11 by a 2-1 score with Dan Sullivan (York, Pa.) recording 35 saves in net.
- Doug Carr (Hanover, Mass.) has started five of six games for the River Hawks, posting a 2.13 GAA and .919 save percentage, despite his 1-2-1 record to start the year.

No. 12 Boston University at Merrimack (Fri. at Lawler Arena on WBIN-TV)
- Merrimack's Mike Collins (Boston, Mass.) leads league play with 10 points (3g,7a) in five games this season, all which have come in the last four games.
- BU freshman Matt O'Connor (Toronto, Ont.) is the lone undefeated goalie in league play (3-0-0). His 1.75 GAA and 945 save percentage rank second among league goalies and first among rookie netminders.

No. 8 Notre Dame at No. 1 Boston College (Fri. at Conte Forum)
- Notre Dame and Boston College have met 31 times in the all-time series with Boston College holding a 16-13-2 edge in those games.
- The Eagles power play is currently tops in the nation converting at 40% (10 for 25) and BC's six-game unbeaten streak (6-0) is currently tied with Union (5-0-1) for longest in the country.

Vermont at No. 9 New Hampshire (Sat. at the Whittemore Center)
- UNH sophomore Casey DeSmith's (Rochester, N.H.) 197 saves leads all Hockey East netminders, while his 1.54 GAA and. 947 save percentage also lead the league.
- Brody Hoffman (Wilkie, Sask.) notched 24 saves in his first career shutout for the Catamounts last Saturday vs. Providence.

Connecticut at Merrimack (Sat. at Lawler Arena)
- The Warriors own are 4-0 in the last four meetings vs. UConn, including a 5-0 shutout at Lawler Arena on Oct. 22, 2011. Sam Marotta (Bridgewater, Mass.) totaled 25 saves in his first career start for the Warriors in that game.

Alabama-Huntsville at Northeastern (Sat., Sun. at Matthews Arena)
- The Huskies have scored 11 of their 14 goals this season in the opening period and have allowed no more than six goals in any of the three periods.

No. 1 Boston College at No. 12 Boston University (Sun. at Agganis Arena on NESN)
- Eagles' skaters occupy the six of the top seven spots in the leagues scoring race, led by sophomore forward Johnny Gaudreau (Carneys Point, N.J.), who has registered nine points (4g,5a) in seven games so far this season.
- Danny O'Regan's (Needham, Mass.) seven points (4g,3a) in six games for BU currently leads league rookies.