WEEKEND PREVIEW: MAINE HOSTS NO. 1 BC, NO. 10 UNH; NO. 12 BU TRAVELS TO NO. 6 NORTH DAKOTA
~ PC heads north to UVM; NU and MC play series; UMass faces UNH, BC ~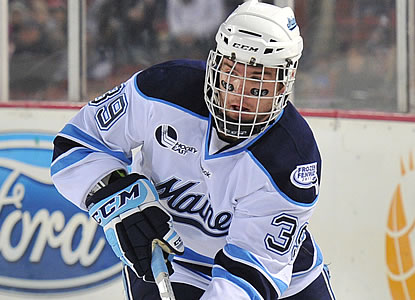 Maine hosts two league games this weekend against BC and UNH
No. 1 Boston College at Maine (Fri. at Alfond Arena)
- Kevin Hayes (Dorchester, Mass.), Bill Arnold (Needham, Mass.) and Destry Straight (West Vancouver, B.C.) combined for eight points (4g,4a) for the Eagles in Sunday's 6-3 win over UMass-Lowell.
- BC beat Maine, 4-1, in the most recent meeting between the teams on March 17, 2012 in the Hockey East Championship Game at TD Garden. Maine won the regular-season series last year, 2-1.

No. 10 New Hampshire at Massachusetts (Fri. at the Mullins Center)
- UNH has captured the past two season series with Massachusetts by posting a 6-1-1 mark over the last eight meetings. UMass' lone win came in a 4-2 win last time out at Mullins Center. UNH is 11-2-3 in the last 16 meetings with the Minutemen.
- UMass has seen 5-of-12 of its goals come from defensemen, including 4-of-5 of its power play tallies.

Merrimack vs. Northeastern - Two-Game Series (Fri. at NU, Sat. at MC)
- NU senior netminder Bryan Mountain (Bryn Mawr, Pa.) was named Hockey East Co-Defensive Player of the Week on Monday. He stopped 62-of-63 (.981 save%) shots in a game and a half vs. No. 11 UNH, including his first-career shutout with a 44-save performance in the 0-0 tie on Saturday night at Matthews Arena.
- Junior goalie Sam Marotta (Bridgewater, Mass.) has started three games for the Warriors this season, posting a 2-1-0 record with a 2.35 GAA and a. 929 save percentage.

Providence at Vermont - Two-Game Series (Fri., Sat. at Gutterson Fieldhouse)
- PC's Jon Gillies (Portland, Maine) was named Hockey East Co-Rookie of the Month, along with BU's Matt O'Connor (Toronto, Ont.) He recorded a 3-2-1 record in the month with a 1.72 GAA and a .938 save percentage for the Friars.
- Pete Massar (Williston, Vt.) and Nick Luukko (West Chester, Pa.) scored their first career goals for the Catamounts in the 2-2 tie with Merrimack last Saturday night.

No. 12 Boston U. at No. 6 North Dakota - Two-Game Series (Fri., Sat. at Engelstad Arena, NESN)
- The forward line of senior Wade Megan (Canton, N.Y.) and sophomores Cason Hohmann (Plymouth, Mich.) and Evan Rodrigues (Etobicoke, Ont.) has totaled 15 points (6g, 9a) and a combined +17 rating through the first four games of the season. Hohmann has three goals already this season after only tallying two goals as a rookie.
- BU's Wade Megan has scored BU's first goal in each of the last three games and is on a five-game point streak dating back to last season.

Massachusetts at No. 1 Boston College (Sun. at Conte Forum)
- BC ranks tied for fourth nationally with a 35.5% success rate (6 for 17) on the power play.
- Senior co-captains Rocco Carzo (Media, Pa.) and Kevin Czepiel (Holyoke, Mass.) are both coming up the century mark for career games, having each played in 98 contests entering this weekend's action.

No. 10 New Hampshire at Maine (Sun. at Alfond Arena)
- UNH junior Kevin Goumas is the active leader in scoring against Maine with eight points (4g,4a) in six games.
- Maine won last year's season series 2-1-0 thanks to wins at Frozen Fenway (5-4 OT) on Jan. 7 and a 1-0 win at Alfond Arena on March 3. Despite losing last year's series, UNH has won four of the last six games against Maine.