WEEKEND PREVIEW: MAINE, MERRIMACK OFFICIALLY OPEN 2012-13 SEASON THIS SATURDAY
~ Seven exhibitions on the slate for league teams over the weekend ~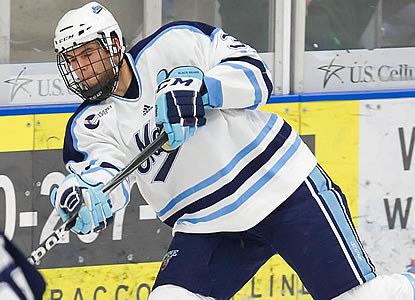 Maine hosts Quinnipiac on Saturday night to open the season
Quinnipiac at Maine (Sat. at Alfond Arena)
- Maine returns 17 letterwinners from the 2011-2012 season, including leading goal scorer Joey Diamond (Long Beach, N.Y.). Diamond, who finished fourth in the nation in goals per game, tallied 25 goals and dished out 22 assists for 47 points a year ago.
- Senior defenseman Mark Nemec (Rouses Point, N.Y.) is slated to play in his 100th career game for the Black Bears on Saturday, Oct. 6 against Quinnipiac. He will become the second Black Bear to join the 100 games played plateau, joining teammate Joey Diamond. Diamond has seen action in 102 games in his career.
- The Black Bears owned a 13-4-3 record when scoring the games first goal of the season last year and owned a 12-6-0 record at home in Alfond Arena.
- Junior goaltender Dan Sullivan (York, Pa.), who finished 22-11-3 on the season with a 2.59 GAA and a .909 save percentage, returns between the pipes this season in Orono.

Merrimack at No. 5 Union College (Sat. at Messa Rink)
- Merrimack opens the 2012-13 campaign with four straight games away from North Andover beginning with Frozen Four finalist and ECAC Champion Union College.
- The Warriors are 7-2-2 in its last 11 openers. In last season's opener, Merrimack earned its first win in Orono in 12 years, defeating Maine 2-1. The Warriors are 2-1-1 in their last four openers.
- Merrimack is 19-7-3 lifetime against Union, 7-4-1 all-time at Messa Rink. The Dutchmen defeated the Warriors 3-1 last season at Lawler Arena. In the last meeting between the two teams, Merrimack fell by a 3-1 score on December 17, 2011. Shawn Bates (Fort Saskatchewan, Alta.) scored, but Merrimack suffered its first nonconference home loss since October 24, 2006 (13 games) as Union scored two power play goals and outshot Merrimack 34-20 for the 3-1 road victory.
- Junior captain Jordan Heywood (Regina, Sask.) has played in all 76 games in his two seasons at Merrimack. He has amassed 35 points (6g,29a) to date in his Warriors career.