WEEKEND PREVIEW: NO. 1 BC AND NO. 12 UML PLAY HOME-AND-HOME SERIES; UMASS FACES NO. 11 BU
~ UVM travels to MC; No. 11 UNH plays NU; Maine skates with PC ~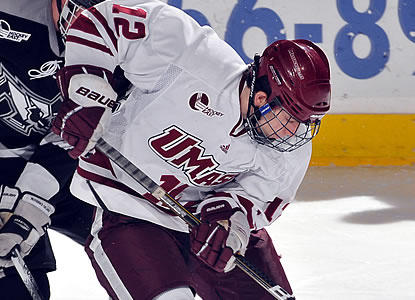 UMass will face off against Boston University in a home-and-home series this weekend
No. 13 Boston University vs. Massachusetts - Two-Game Series (Fri. at BU, Sat. at UMass)
- Senior forward Rocco Carzo (Media, Pa.) scored two goals for the Minutemen in the 5-4 overtime loss to BC last Friday night at the Mullins Center.
- The two teams tied the season series last year, with UMass winning the last meeting last February 10 at Agganis Arena. Then freshman goalie Kevin Boyle (Manalapan, N.J.) notched 33 saves in the victory for the Minutemen.

No. 1 Boston College vs. No. 12 UMass-Lowell - Two-Game Series (Fri. at UML, Sun at BC)
- BC won the season series with the River Hawks in 2011-12, 2-1-0. UML won the last meeting by a 3-2 score on December 9, 201. Derek Arnold (Foxboro, Mass.) and Joseph Pendenza (Wilmington, Mass.) both scored in the goal for the River Hawks.
- Sophomore Johnny Gaudreau (Carneys Point, N.J.) was named Athletic Republic Player of the Week on Monday for the second time in his BC career with a four-point (2g,2a) effort last weekend vs UMass and Northeastern.

Vermont at Merrimack - Two-Game Series (Fri., Sat. at Lawler Arena)
- Merrimack owns a 7-0-2 record vs. Vermont in the last nine meetings, which includes three wins for the Warriors in the season series last year.
- UVM has had 14 days between games since facing the River Hawks on Oct. 12 in its season opener. Freshman goaltender Brody Hoffman (Wlkie, Sask.) was named the Hockey East Co-Defensive Player of the Week on Oct. 15 following a 38-save outing in his collegiate debut at UMass Lowell, in the 1-1 tie.

No. 11 New Hampshire vs. Northeastern -Two-Game Series (Fri. at UNH, Sat. at NU)
- NU senior defenseman Drew Ellement (Winnipeg, Man.) will play in his 100th career game on Friday night at New Hampshire. Ellement has tallied three goals and 18 assists in his tenure as a Husky.
- The Wildcats have scored on the power play in each of the first three games of the season, while their penalty kill unit has killed off 14 of 15 penalties (93.3%) this season.
- UNH won the series last year with Northeastern, 2-1-0. UNH is 5-0-1 in the last six meetings vs. NU at the Whittemore Center with the last Husky victory coming on Nov. 16, 2007 (4-1). Coach Umile owns a 44-16-12 record all-time vs. NU.

Maine at Providence - Two-Game Series (Fri., Sat. at Schneider Arena)
- Last season, the Black Bears took the first two meetings of the season at Alfond Arena (5-4 in OT on Oct. 28 and 3-1 on Oct. 29), but Providence was able to win the third matchup with a 4-3 victory on Feb. 10 at Schneider Arena. Three of the last six meetings between the two teams have gone to overtime, and three of the last four games have been decided by a goal.
- Providence freshman goalie Jon Gillies (South Portland, Maine.) was named Pro Ambitions Rookie of the Week on Monday posting a 2.34 GAA and .914 save percentage (53 saves) in two road games at No. 4 Miami last weekend.