WEEKEND PREVIEW: UMASS HOSTS NO. 3 BC FRIDAY; EAGLES RAISE NCAA BANNER SATURDAY VS. NU
~ UNH faces No. 11 BU; PC plays at Miami; MC, UML travel West; Maine faces SLU ~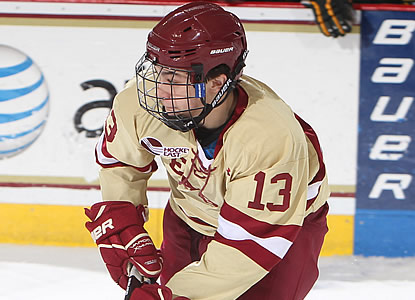 The BC Eagles will raise their 2012 NCAA Championship Banner on Saturday night at Kelley Rink
No. 3 Boston College at Massachusetts (Fri. at the Mullins Center)
- The Minutemen will try to break the 8,000 fan mark on Friday vs. the Eagles. The Mullins Center attendance record of 8,389 was set vs. BC in 2008 and again in 2010. UMass has broken the 8K mark eight times in the history of the Mullins Center.
- Massachusetts won the regular-season series in 2011-12, 2-1, but the Eagles won the last two meetings in the Hockey East quarterfinal playoff last March at Conte Forum, which were two one-goal games (2-1,3-2). BC leads the all-time series 52-12-3 and had won 12 straight meetings dating back to February of 2009 before UMass' win last November.

St. Lawrence at Maine - Two-Game Series (Fri., Sat. at Alfond Arena on WABI-TV)
- Maine recorded 54 shots on goal in its 4-3 win over Army last Saturday night in the Ice Breaker Tournament. It marked the most shots on goal for the Black Bears since registering 61 shots against UMass in the Hockey East Title game in 2004.
- The Black Bears have not allowed a power play goal in eight chances by their opponents this season. Quinnipiac (0-2), Notre Dame (0-for-5) and Army 0-for-1.
- In two starts this season, Maine goaltender Dan Sullivan (York, Penn.) has posted a 1.53 GAA and .942 save percentage.
- Maine and St. Lawrence have played 15 times with the Black Bears holding an 11-4-0 lead in the all-time series. Maine owned a 4-2-1 record last year in non-conference play, which included a 2-0 record vs. ECAC foes.

No. 9 UMass-Lowell at No. 8 Denver (Fri. at Magness Arena), Colorado College (Sat. at World Arena)
-Josh Holmstrom (Colorado Springs, Col.) scored the lone goal of the game for the River Hawks in the 1-1 tie with Vermont last Friday night in their season opener at the Tsongas Center.
- UML went 6-2-0 vs. non-league opponents last year and a 2-0 record vs. WHCA teams in 2011-12.

Providence at No. 4 Miami (Fri., Sat. at Goggin Ice Arena)
- The Friars and RedHawks have met six times dating back to their first meeting on Dec. 22, 1990, when Providence posted an 8-1 win at Goggin Arena. All-time, the Friars and RedHawks have played to an even 3-3-0 mark. Last season, the teams met in the first game of the Denver Cup Classic at Magness Arena in Denver, Colo. on Nov. 11, 2011.

Merrimack at Alaska (Fri.) vs. Alaska-Anchorage (Sat.) at Alaska Gold Rush Tournament, Carlson Center)
- Merrimack's sophomore class has accounted for five of the Warriors' six goals this season. Sophomore Josh Myers (Colorado Springs, Col.) leads the team in scoring with three points in two games.

Northeastern at No. 3 Boston College (Sat. at Conte Forum)
- Boston College will celebrate their fifth NCAA Title in school history ('49, '01, '08, '10, '12), raising the NCAA Championship Banner at Conte Forum Saturday night.
- The Huskies won the first meeting of the season series by a 3-1 score last Saturday night at Matthews Arena. Pro Ambitions Rookie of the Week Kevin Roy (Lac-Beauport, Que.) notched the game-winner vs. the Eagles and totaled four shots on goal. Senior goalie Chris Rawlings (North Delta, B.C.) notched 31 saves in the victory.

No. 11 Boston University at New Hampshire (Sat. at the Whittemore Center on WBIN-TV and FCS)
- Boston University leads the all-time series with UNH 101-47-19 in 167 all-time meetings. BU won the first three meetings of last year by a combined score of 11-2 (5-0, 4-1, 2-1). UNH's 3-2 double overtime win on March 9 in the Hockey East quarterfinals snapped a five-game skid to BU and was the only win against the Terriers last season, as BU won the best-of-three quarterfinal playoff. BU remains the only team in Hockey East with a winning record (11-8-5) at the Whittemore Center.