JIM CONNELLY NAMED 2012 CONCANNON MEDIA AWARD RECIPIENT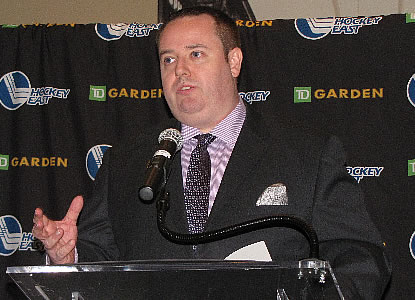 USCHO's Jim Connelly has been selected as the 2012 Concannon Media Award recipient
BOSTON - Hockey East Commissioner Joe Bertagna announced on Tuesday at the league's annual media day that U.S. College Hockey Online's (USCHO) Jim Connelly has been named the 21st recipient of the prestigious Joe Concannon Hockey East Media Award. He begins his 15th year covering the league in 2012-13 for USCHO. Connelly is the third member of the USCHO staff to receive the award.
Connelly primarily covers Hockey East and also co-writes a weekly national column, "Tuesday Morning Quarterback," and co-hosts USCHO's weekly radio show, "USCHO Live." He began his writing career in 1999 when he covered the Metro Atlantic Athletic Conference, now knows as Atlantic Hockey, for USCHO. He has covered every NCAA Regional and NHL Draft since 1999, and every Frozen Four since 2000.
In addition to his work for USCHO, Connelly has been published in The Hockey News as well as on a number of national hockey websites. He has made television appearances on CBS Sports Network and NESN. Since 2008, he has also served as a part-time color analyst for University of Vermont radio when the team travels to the Boston area.
Connelly began his career in hockey as an equipment manager while attending the University of Massachusetts-Lowell from 1992 through 1996. During the 1997-98 season, Connelly served as the public relations manager for the Beast of New Haven hockey team, the American Hockey League affiliate of the Florida Panthers and Carolina Hurricanes.
In addition to his work in journalism, Connelly has a successful career in corporate communications, having worked for a number of public relations firms before starting his own business, JMC Communications, in 2010. His clients have included a number of sports properties including the PGA TOUR's Deutsche Bank Championship and the Head Of The Charles Regatta.
Connelly, 38, lives in Waltham, Mass., with his wife Maureen.
The award was renamed in memory of long-time Boston Globe Sportswriter Joe Concannon in 2001. Each recipient has demonstrated a superior body of work in covering and promoting Hockey East over an extended period.
The Hockey East Association is a 10-team Division I college men's hockey conference founded in 1984 and an eightteam Division I women's league which began play in 2002-03. The men's league has won eight NCAA championships in the past 20 years. Since 1999, Hockey East has won six NCAA Championships and have placed 20 teams in the Frozen Four, along with 53 teams in the NCAA Tournament.
HOCKEY EAST MEDIA AWARD WINNERS

1992
Larry Mahoney, Bangor Daily News
1993
Bob Whitelaw, New England Sports Network
1994
Bob Monahan, Boston Globe
1995
John Connolly, Boston Herald
1996
Charles Scoggins, Lowell Sun
1997
Bob Norton, New England Sports Network
1998
Joe Concannon, Boston Globe
1999
Dick Osborne, UNH Sports Network
2000
Bill Doherty, Huskies Radio
2001
Dave Hendrickson, U.S. College Hockey Online
2002
Roger Brown, Portsmouth Herald
2003
Bernie Corbett, Giant Sports Associates
2004
Rob Rudnick, Huskies Radio
2005
Eric Frede, NESN / CodRock Media
2006
Dan Hannigan, Maine Radio / CodRock Media
2007
Allen Lessels, New Hampshire Union Leader
2008
Mike Logan, Providence College Radio
2009
Bob Ellis, UMass Lowell Radio
2010
Brock Hines, UMass Sports Network
2011
Mike Machnik, Merrimack Radio, CHN & USCHO
2012
Jim Connelly, U.S. College Hockey Online (USCHO)