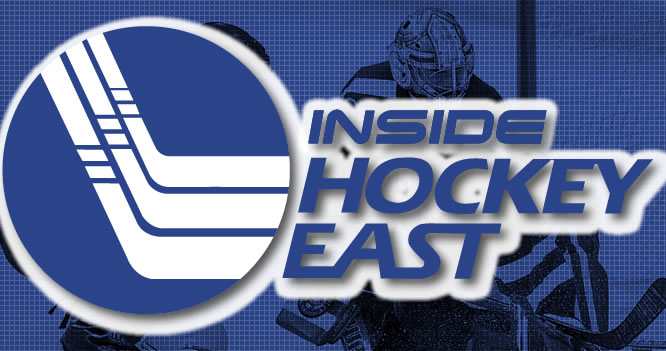 In 2014-15, the Hockey East Association launched Inside Hockey East, its first-ever weekly podcast, to deliver fans a behind-the-scenes look into both the men's and women's programs. Hosted by long-time Boston University radio voice Bernie Corbett, Inside Hockey East will be produced each week throughout the regular season to provide an outlet for league administrators, coaches, players and members of the media to talk about all things Hockey East.

Corbett, joined by colleague Kat Hasenauer Cornetta, will produce the 30-minute podcast, set to feature the latest news and headlines from schools around Hockey East in the run-up to the Hockey East Championship Tournament. Check back each week for highlights from all the Hockey East action throughout the season!

This week's Inside Hockey East features Northeastern's John Stevens, Merrimack's Mark Dennehy, Boston College alum Alex Carpenter and a "Hockey East in the NHL Profile" with former BU player Colin Wilson.
---
2016-17 INSIDE HOCKEY EAST ARCHIVE:
---
2015-16 INSIDE HOCKEY EAST ARCHIVE:
March 25, 2016 - March 18, 2016 - March 10, 2016 - March 3, 2016 - February 26, 2016 - February 18, 2016 - February 12, 2016 - February 3, 2016 - January 29, 2016 - January 22, 2016 - January 15, 2016 - January 6, 2016 - January 1, 2016 - December 17, 2015 - December 10, 2015 - December 2, 2015 - November 27, 2015 - November 18, 2015 - November 12, 2015 - November 5, 2015 - October 28, 2015 - October 22, 2015 - October 14, 2015 - October 9, 2015


---
2014-15 INSIDE HOCKEY EAST ARCHIVE:
March 26, 2015 - March 20, 2015 - March 13, 2015 - March 6, 2015 - February 27, 2015 - February 20, 2015 - February 13, 2015 - February 6, 2015 - January 30, 2015 - January 23, 2015 - January 16, 2015 - January 9, 2015 - January 2, 2015 - December 26, 2014 - December 12, 2014 - December 5, 2014 - November 28, 2014 - November 21, 2014 - November 14, 2014 - November 7, 2014 - October 31, 2014 - October 24, 2014 - October 17, 2014 - October 9, 2014