HOCKEY EAST HEADLINES
Vermont claimed the 2018 Catamount Cup title last weekend, topping both Alabama Huntsville, 4-1, and RPI, 4-2, and earning a plus-five goal differential across the two games. In Saturday's outing against RPI, the Catamounts erased a two-goal deficit with three power-play strikes to earn the tournament title.
Northeastern also participated in the annual tournament in Burlington, Vermont, finishing second with an undefeated record but just a plus-three goal differential in wins over RPI, 3-2 in overtime, and Alabama Huntsville, 2-0.
Providence captured the 2018 Ledyard Bank Classic over the holiday break, winning games over Brown, 3-1, and hosts Dartmouth, 5-3. Scott Conway (Basingstoke, England) scored twice and Brandon Duhaime (Parkland, Fla.) added three assists in Sunday's championship game against the Big Green.
UConn ended a seven-game skid with a 3-1 win over #15 Yale on Monday, marking the first time in program history that the Huskies have topped the in-state rival Bulldogs. Junior Adam Huska (Zvolen, Slovakia) kicked out 39 shots to earn the victory and improve to 4-7-1 on the year.
New Hampshire capped 2018 with a 4-3 win over Bentley, earning its third straight win as the Wildcats are now 4-1-2 in their last seven outings. Four different Wildcats found the back of the net and UNH scored three power-play goals in the win

---
HOCKEY EAST CO-PLAYERS OF THE WEEK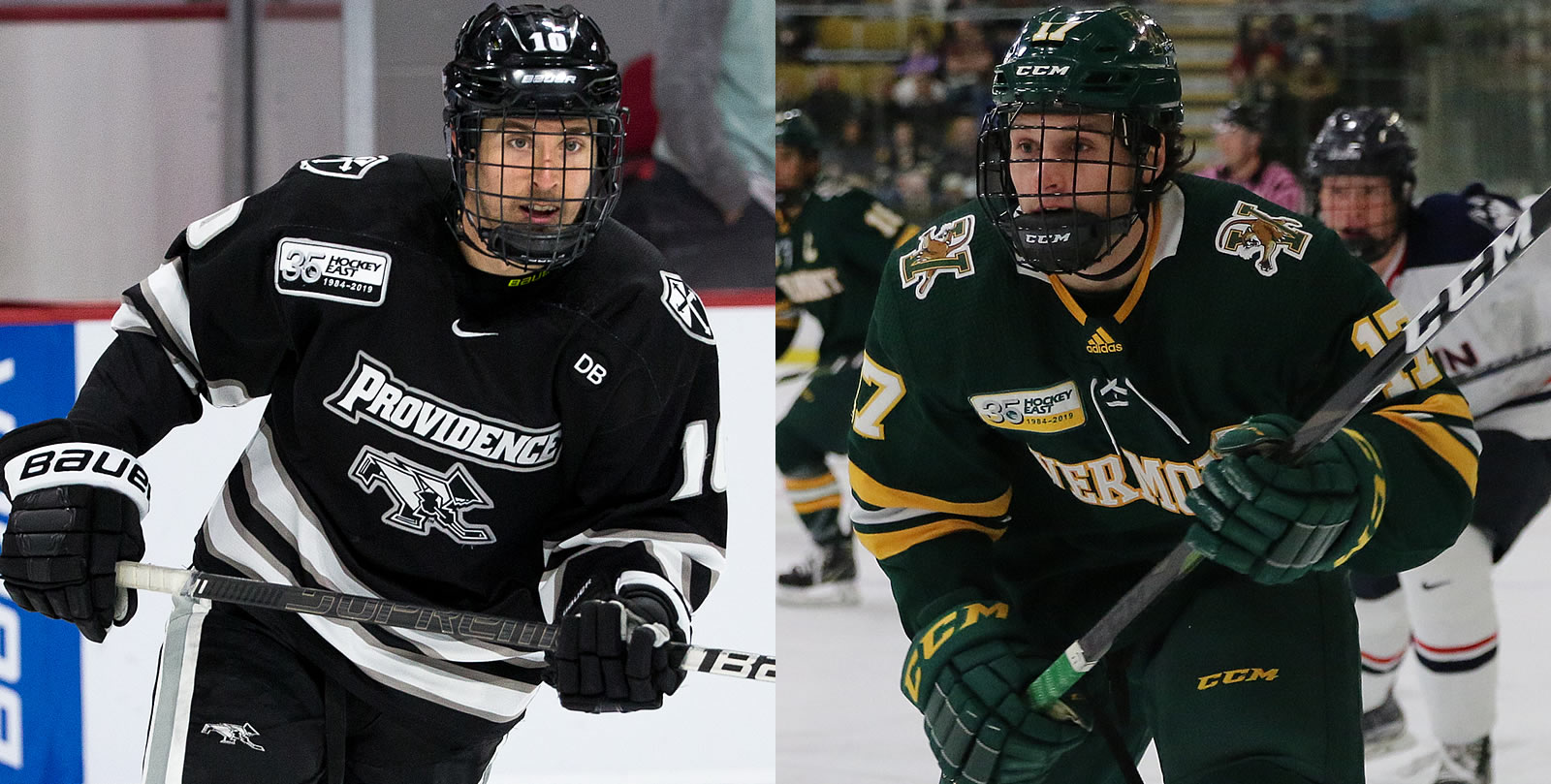 Scott Conway - Providence
Scott Conway (Basingstoke, England) tallied three goals and registered 10 shots this weekend as the Friars claimed the 2018 Ledyard Classic. He scored the game-winning goal against Brown on Saturday and two goals in the title game Sunday to win tournament MVP honors. He has a three-game goal scoring streak, totaling four goals over that span.

Craig Puffer - Vermont
Craig Puffer (New Canaan, Conn.) dished out four assists on the weekend to help Vermont capture the 2018 Catamount Cup title with a 2-0-0 record and plus-five goal differential. He earned a pair of helpers in each game, including one on the game-winning goal over Alabama Huntsville.

---
PRO AMBITIONS ROOKIE OF THE WEEK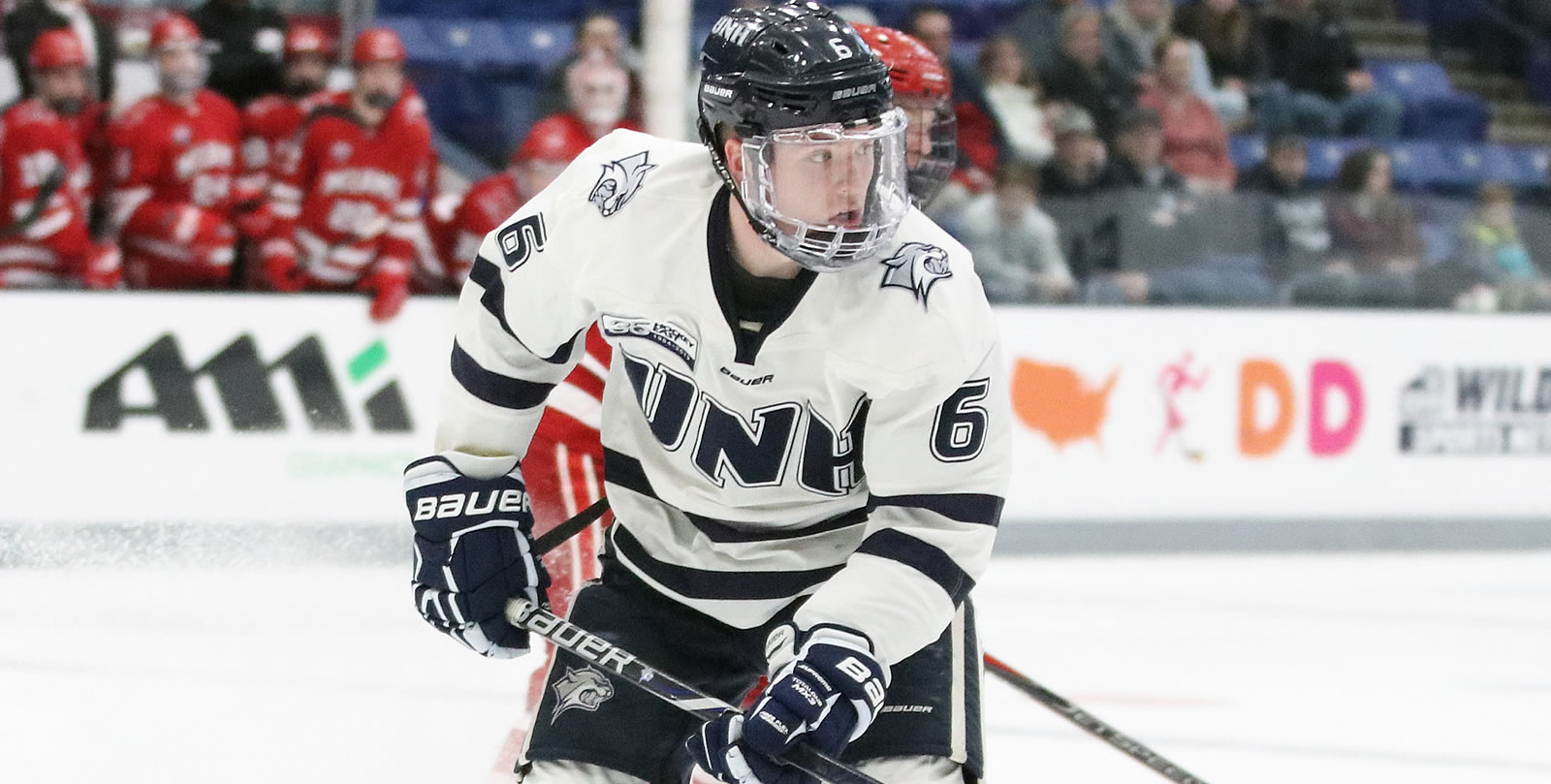 Angus Crookshank - New Hampshire
Angus Crookshank (North Vancouver, B.C.) Potted a goal and added an assist for two points as New Hampshire downed Bentley, 4-3, on Dec. 30. He assisted on the game-winner and is now on a four-game point streak with three goals and four assists for seven points. It marked his third multi-point game of the season.

---
HOCKEY EAST DEFENSIVE PLAYER OF THE WEEK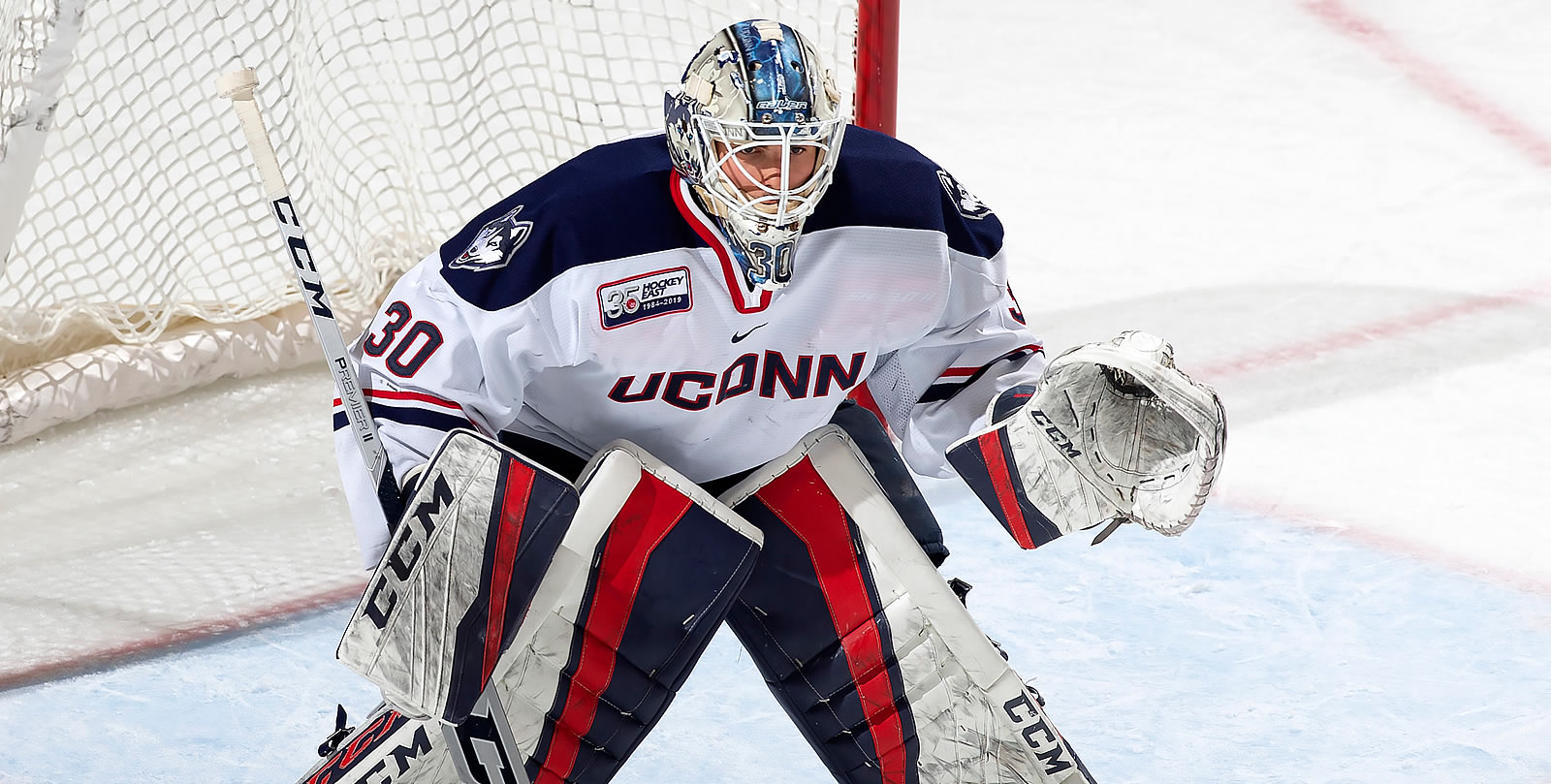 Adam Huska - UConn
Adam Huska (Zvolen, Slovakia) stopped 39 shots to match his season-high total as he backboned the Huskies to a 3-1 win over #15 Yale. The win ended a seven-game skid for UConn and was the program's first-ever win over rival Yale in 14 attempts.

---
HOCKEY EAST TOP PERFORMERS
Seth Barton, UML (Fr., D; Kelowna, B.C.) Scored the lone goal for the River Hawks, on the power play, in a 4-1 loss to Denver on Saturday night at the Tsongas Center.
Ryan Ruck, NU (Sr., G; Coto de Caza, Calif.) Went 2-0-0 in his first starts in more than a year, including his first shutout since 2017 on Saturday against Alabama Huntsville with 13 saves. He stopped 31 in a 3-2 win against RPI the day prior.
Jack Dugan, PC (Fr., F; Rochester, N.Y.) Notched a goal and an assist in two games at the Ledyard Classic this past weekend. He continues to lead all NCAA freshmen in scoring with 19 points.
Max Kaufman, UVM (So., F; Rochester, N.Y.) Netted a pair of goals and added an assist in two Catamount wins last weekend. His strikes tied the game against RPI at 2-2 with 0.5 seconds left in the second period and added an empty-net goal in the final minute of the third period.
Stefanos Lekkas, UVM (Jr., G; Elburn, Ill.) Helped Vermont to two wins and the Catamount Cup title with a 1.50 GAA and .939 SV% in two wins over RPI and Alabama Huntsville. He stopped 46 of the 49 shots he faced to give his team the two victories and a plus-five goal differential.